Product Pathways - Companion Products
Normal Goat Serum #5425
| Item# | Description | List Price | Web Price | Qty | |
| --- | --- | --- | --- | --- | --- |
*On-line ordering is for Canadian customers only. Web pricing is applicable only to orders placed online at www.neb.ca
X
Companion Products
| Item# | Description | List Price | Web Price | Qty | |
| --- | --- | --- | --- | --- | --- |
Description
Premium quality normal goat serum for use as blocking reagent and antibody diluent for chromogenic and fluorescent immunohistochemical and immunocytochemical assays. Typically, normal serum from the same species as the secondary antibody is used in the blocking and diluent buffers.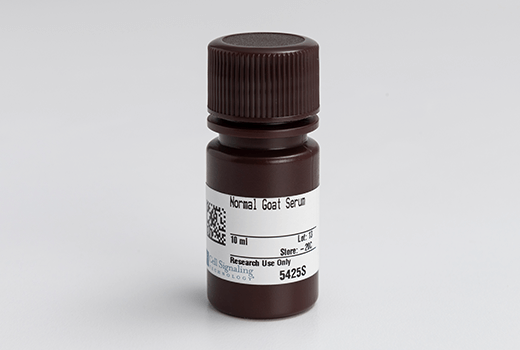 Application References
Koutsioumpa, M. et al. (2013) J Biol Chem 288, 343-54. Applications: Companion Products.
Straussman, R. et al. (2012) Nature 487, 500-4. Applications: Companion Products.
Piskounova, E. et al. (2011) Cell 147, 1066-79. Applications: Companion Products.
Have you published research involving the use of our products? If so we'd love to hear about it. Please let us know!
---
This product is intended for research purposes only. The product is not intended to be used for therapeutic or diagnostic purposes in humans or animals.
Cell Signaling Technology is a trademark of Cell Signaling Technology, Inc.