Product Pathways - Companion Products
Biotinylated Protein Ladder Detection Pack #7727
| Item# | Description | List Price | Web Price | Qty | |
| --- | --- | --- | --- | --- | --- |
*On-line ordering is for Canadian customers only. Web pricing is applicable only to orders placed online at www.neb.ca
X
Companion Products
| Item# | Description | List Price | Web Price | Qty | |
| --- | --- | --- | --- | --- | --- |
Applications Key: W=Western Blotting
Reactivity Key: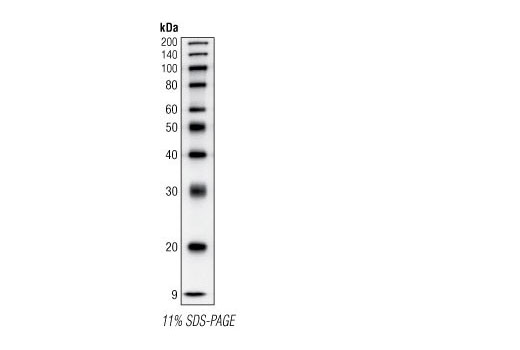 Description
Biotinylated protein ladder detection pack is designed to detect the molecular weight ladders on Western blots when using the horseradish peroxidase (HRP) based Western detection system. The pack contains Biotinylated Protein Ladder and Anti-biotin, HRP-linked Antibody. The molecular weight ladder is a mixture of purified proteins covalently coupled to biotin that resolve to 10 bands that have a size range of 9-200 kDa. The anti-biotin antibody is used to detect biotinylated protein ladders on Western blots. The pack is optimized for chemiluminescent Western detection procedures.
Specificity / Sensitivity
The Anti-biotin, HRP-linked Antibody may cross react with endogenously expressed biotinylated proteins. Careful titration may be needed.
Source / Purification
The protein ladder consists of 10 proteins ranging in apparent molecular weight from 9 to 200 kDa. The 9 kDa protein is corresponding to aprotinin purified from bovine lung. The proteins from 20-50 kDa are paramyosin fragments; the higher molecular weight proteins are fusions of maltose binding protein (MBP) with paramyosin or paramyosin/lacZ fragments. The 200 kDa protein is corresponding to alpha-2-macroglobulin purified from human plasma.
The anti-biotin HRP-linked antibody should only be used to detect the marker and not other biotinylated proteins.
Application References
Have you published research involving the use of our products? If so we'd love to hear about it. Please let us know!
---
This product is intended for research purposes only. The product is not intended to be used for therapeutic or diagnostic purposes in humans or animals.
Cell Signaling Technology is a trademark of Cell Signaling Technology, Inc.