Product Pathways - PI3K / Akt Signaling
Phospho-PTEN (Ser380) Antibody #9551

PhosphoSitePlus® protein, site, and accession data: PTEN
| Item# | Description | List Price | Web Price | Qty | |
| --- | --- | --- | --- | --- | --- |
*On-line ordering is for Canadian customers only. Web pricing is applicable only to orders placed online at www.neb.ca
X
Companion Products
| Item# | Description | List Price | Web Price | Qty | |
| --- | --- | --- | --- | --- | --- |
Application
Dilution
Species-Reactivity
Sensitivity
MW (kDa)
Source
W

Human

,

Mouse

,

Rat

Endogenous
54
Rabbit
IP
Species cross-reactivity is determined by western blot.
Applications Key: W=Western Blotting, IP=Immunoprecipitation
Homology
Species predicted to react based on 100% sequence homology: Chicken.
Protocols
Specificity / Sensitivity
Phospho-PTEN (Ser380) Antibody detects endogenous levels of PTEN only when phosphorylated at Ser380.
Source / Purification
Polyclonal antibodies are produced by immunizing animals with a synthetic phosphopeptide corresponding to residues surrounding Ser380 of human PTEN. Antibodies are purified by protein A and peptide affinity chromatography.
Western Blotting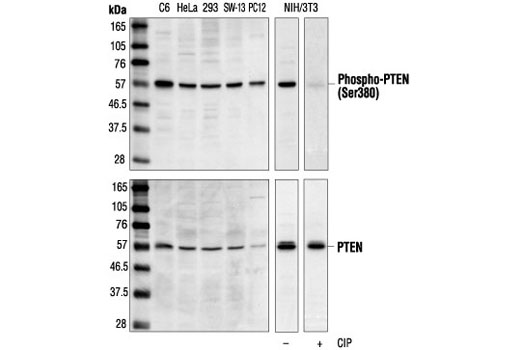 Western blot analysis of extracts from various cell lines, using Phospho-PTEN (Ser380) Antibody (upper) or PTEN Antibody #9552 (lower). The phospho-specificity of the antibody was confirmed by treating the membrane with calf intestinal alkaline phosphatase (CIP) after Western transfer.
Background
PTEN (phosphatase and tensin homologue deleted on chromosome ten), also referred to as MMAC (mutated in multiple advanced cancers) phosphatase, is a tumor suppressor implicated in a wide variety of human cancers (1). PTEN encodes a 403 amino acid polypeptide originally described as a dual-specificity protein phosphatase (2). The main substrates of PTEN are inositol phospholipids generated by the activation of the phosphoinositide 3-kinase (PI3K) (3). PTEN is a major negative regulator of the PI3K/Akt signaling pathway (1,4,5). PTEN possesses a carboxy-terminal, noncatalytic regulatory domain with three phosphorylation sites (Ser380, Thr382, and Thr383) that regulate PTEN stability and may affect its biological activity (6,7). PTEN regulates p53 protein levels and activity (8) and is involved in G protein-coupled signaling during chemotaxis (9,10).
Cantley, L.C. and Neel, B.G. (1999) Proc Natl Acad Sci USA 96, 4240-5.
Myers, M.P. et al. (1997) Proc Natl Acad Sci USA 94, 9052-7.
Myers, M.P. et al. (1998) Proc Natl Acad Sci USA 95, 13513-8.
Wan, X. and Helman, L.J. (2003) Oncogene 22, 8205-11.
Wu, X. et al. (1998) Proc Natl Acad Sci USA 95, 15587-91.
Vazquez, F. et al. (2000) Mol Cell Biol 20, 5010-8.
Torres, J. and Pulido, R. (2001) J Biol Chem 276, 993-8.
Freeman, D.J. et al. (2003) Cancer Cell 3, 117-30.
Funamoto, S. et al. (2002) Cell 109, 611-23.
Iijima, M. and Devreotes, P. (2002) Cell 109, 599-610.
Application References
Birle, D. et al. (2002) . J. Immunol. 169, 286-291. Applications: Western Blotting.
Sawitzky, M. et al. (2012) PLoS One 7, e39711. Applications: Western Blotting.
Have you published research involving the use of our products? If so we'd love to hear about it. Please let us know!
---
This product is intended for research purposes only. The product is not intended to be used for therapeutic or diagnostic purposes in humans or animals.
Cell Signaling Technology is a trademark of Cell Signaling Technology, Inc.