Product Pathways - PathScan ELISA
Phosphate Buffered Saline (PBS-20X) #9808
| Item# | Description | List Price | Web Price | Qty | |
| --- | --- | --- | --- | --- | --- |
*On-line ordering is for Canadian customers only. Web pricing is applicable only to orders placed online at www.neb.ca
X
Companion Products
| Item# | Description | List Price | Web Price | Qty | |
| --- | --- | --- | --- | --- | --- |
Description
Phosphate Buffered Saline (PBS) formulated to be used as a buffer for ELISA. 1 X PBS contains 3.2 mM Na2HPO4, 0.5 mM KH2PO4, 1.3 mM KCl, 135 mM NaCl, pH 7.4.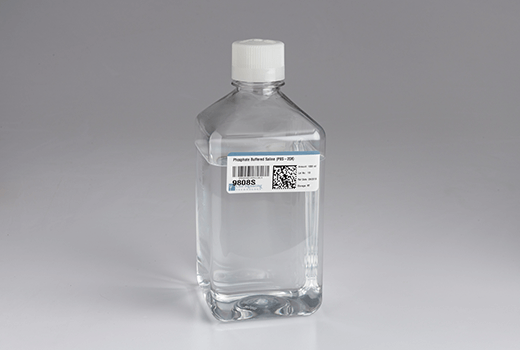 Directions for Use
Dilute Phosphate Buffered Saline (PBS - 20X) to a 1X solution using ddH2O. This product supplies enough 20X material to make 20 liters of 1X solution.
Application References
Have you published research involving the use of our products? If so we'd love to hear about it. Please let us know!
---
This product is intended for research purposes only. The product is not intended to be used for therapeutic or diagnostic purposes in humans or animals.
Cell Signaling Technology is a trademark of Cell Signaling Technology, Inc.