Product Pathways - NF-kB Signaling
Phospho-IRAK4 (Thr345/Ser346) (D6D7) Rabbit mAb #11927

PhosphoSitePlus® protein, site, and accession data: IRAK4
| Item# | Description | List Price | Web Price | Qty | |
| --- | --- | --- | --- | --- | --- |
*On-line ordering is for Canadian customers only. Web pricing is applicable only to orders placed online at www.neb.ca
X
Companion Products
| Item# | Description | List Price | Web Price | Qty | |
| --- | --- | --- | --- | --- | --- |
Application
Dilution
Species-Reactivity
Sensitivity
MW (kDa)
Isotype
W

Human

Endogenous
55
Rabbit IgG
IP
Species cross-reactivity is determined by western blot.
Applications Key: W=Western Blotting, IP=Immunoprecipitation
Homology
Species predicted to react based on 100% sequence homology: Mouse, Rat, Bovine, Dog.
Protocols
Specificity / Sensitivity
Phospho-IRAK4 (Thr345/Ser346) (D6D7) Rabbit mAb recognizes endogenous levels of IRAK4 protein only when phosphorylated at Thr345 and Ser346. This antibody does not react with single phosphorylated proteins.
Source / Purification
Monoclonal antibody is produced by immunizing animals with a synthetic phosphopeptide corresponding to residues surrounding Thr345/Ser346 of human IRAK4 protein.
Western Blotting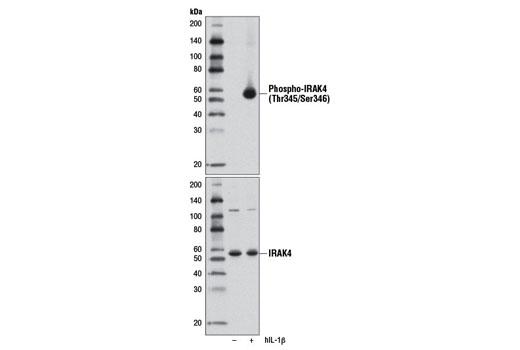 Western blot analysis of serum-starved KARPAS-299 cell extracts, untreated (-) or treated with Human Interleukin-1β (hIL-1β) #8900 (50 ng/ml, 15 min; +), using Phospho-IRAK4 (Thr345/Ser346) (D6D7) Rabbit mAb (upper) or IRAK4 Antibody #4363 (lower). Cell Line Source: Dr Abraham Karpas at the University of Cambridge.
Background
Interleukin-1 (IL-1) receptor-associated kinase (IRAK) is a serine/threonine-specific kinase that can be coprecipitated in an IL-1-inducible manner with the IL-1 receptor (1). The mammalian family of IRAK molecules contains four members (IRAK1, IRAK2, IRAK3/IRAK-M, and IRAK4). The binding of IL-1 to IL-1 receptor type I (IL-1RI) initiates the formation of a complex that includes IL-1RI, AcP, MyD88, and IRAKs (2). IRAK undergoes autophosphorylation shortly after IL-1 stimulation. The subsequent events involve IRAK dissociation from the IL-1RI complex, its ubiquitination, and its association with two membrane-bound proteins: TAB2 and TRAF6. The resulting IRAK-TRAF6-TAB2 complex is then released into the cytoplasm where it activates protein kinase cascades, including TAK1, IKKs, and the stress-activated kinases (3).
Upon IL-1R/Toll-Like Receptor ligation, IRAK1 and IRAK4 are rapidly recruited to the receptor by the adaptor MyD88 (4). IRAK1 is phosphorylated by IRAK4 at Thr209 and Thr387 (5), followed by sequential autohyperphosphorylation in various domains.
Dinarello, C.A. (1996) Blood 87, 2095-147.
Takaesu, G. et al. (2001) Mol Cell Biol 21, 2475-84.
Janssens, S. and Beyaert, R. (2003) Mol Cell 11, 293-302.
Gottipati, S. et al. (2008) Cell Signal 20, 269-76.
Kollewe, C. et al. (2004) J Biol Chem 279, 5227-36.
Application References
Have you published research involving the use of our products? If so we'd love to hear about it. Please let us know!
---
This product is intended for research purposes only. The product is not intended to be used for therapeutic or diagnostic purposes in humans or animals.
Alexa Fluor is a registered trademark of Life Technologies Corporation.
Cell Signaling Technology is a trademark of Cell Signaling Technology, Inc.