Product Pathways - Chromatin Regulation / Epigenetics
SPT16 (D7I2K) Rabbit mAb #12191

PhosphoSitePlus® protein, site, and accession data: SPT16
| Item# | Description | List Price | Web Price | Qty | |
| --- | --- | --- | --- | --- | --- |
*On-line ordering is for Canadian customers only. Web pricing is applicable only to orders placed online at www.neb.ca
X
Companion Products
| Item# | Description | List Price | Web Price | Qty | |
| --- | --- | --- | --- | --- | --- |
Application
Dilution
Species-Reactivity
Sensitivity
MW (kDa)
Isotype
W

Human

,

Mouse

,

Rat

,

Monkey

Endogenous
140
Rabbit IgG
ChIP
Species cross-reactivity is determined by western blot.
Applications Key: W=Western Blotting, ChIP=Chromatin IP
Homology
Species predicted to react based on 100% sequence homology: Hamster, Xenopus, Zebrafish, Bovine, Dog, Guinea Pig, Horse.
Directions For Use
For optimal ChIP results, use 10 μl of antibody and 10 μg of chromatin (approximately 4 x 106 cells) per IP. This antibody has been validated using SimpleChIP® Enzymatic Chromatin IP Kits.
Specificity / Sensitivity
SPT16 (D7I2K) Rabbit mAb recognizes endogenous levels of total SPT16 protein.
Source / Purification
Monoclonal antibody is produced by immunizing animals with a synthetic peptide corresponding to residues surrounding Leu662 of human SPT16 protein.
Western Blotting
Western blot analysis of extracts from various cell lines using SPT16 (D7I2K) Rabbit mAb.
Chromatin IP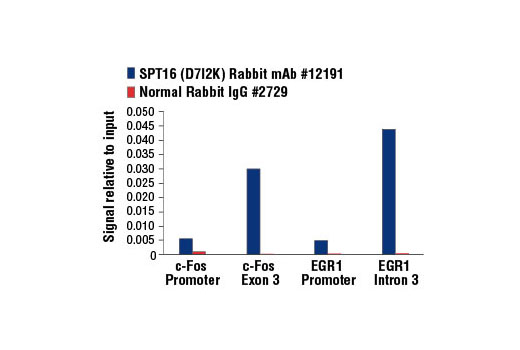 Chromatin immunoprecipitations were performed with cross-linked chromatin from HCT 116 cells starved for 48 hr then serum stimulated with 20% FBS for 15 min and either SPT16 (D7I2K) Rabbit mAb or Normal Rabbit IgG #2729 using SimpleChIP® Enzymatic Chromatin IP Kit (Magnetic Beads) #9003. The enriched DNA was quantified by real-time PCR using SimpleChIP® Human c-Fos Promoter Primers #4663, SimpleChIP® Human c-Fos Exon 3 Primers #12010, SimpleChIP® Human EGR1 Promoter Primers #5549, and SimpleChIP® Human EGR1 Intron 3 Primers #11953. The amount of immunoprecipitated DNA in each sample is represented as signal relative to the total amount of input chromatin, which is equivalent to one.
Background
Suppressor of Ty-16 (SPT16) and structure-specific recognition protein-1 (SSRP1) are subunits of the facilitates chromatin transcription (FACT) complex that is essential for transcription elongation (1,2). FACT facilitates RNA polymerase-dependent transcription of chromatin templates by destabilizing the nucleosomes within the open reading frames of active genes (3-5). FACT destabilizes the nucleosomes, which would otherwise act as barriers to RNA polymerase transcription activity, by disrupting histone-histone and histone-DNA contacts that lead to the eviction of the histone H2A-H2B dimer (2,3,6). FACT may also function as a histone chaperone to reassemble nucleosomes after RNA polymerase passage (7). In addition to transcription, FACT activity has been shown to have a role in DNA replication in yeast and in DNA repair by contributing to the activation of p53 by CK2 and by facilitating histone H2AX-H2B exchange upon DNA damage (8-10).
Winkler, D.D. and Luger, K. (2011) J Biol Chem 286, 18369-74.
Orphanides, G. et al. (1999) Nature 400, 284-8.
Orphanides, G. et al. (1998) Cell 92, 105-16.
Birch, J.L. et al. (2009) EMBO J 28, 854-65.
Orphanides, G. and Reinberg, D. (2000) Nature 407, 471-5.
Keller, D.M. and Lu, H. (2002) J Biol Chem 277, 50206-13.
Belotserkovskaya, R. et al. (2003) Science 301, 1090-3.
Schlesinger, M.B. and Formosa, T. (2000) Genetics 155, 1593-606.
Keller, D.M. and Lu, H. (2002) J Biol Chem 277, 50206-13.
Heo, K. et al. (2008) Mol Cell 30, 86-97.
Application References
Have you published research involving the use of our products? If so we'd love to hear about it. Please let us know!
---
This product is intended for research purposes only. The product is not intended to be used for therapeutic or diagnostic purposes in humans or animals.
Tween is a registered trademark of ICI Americas, Inc.
SimpleChIP is a registered trademark of Cell Signaling Technology, Inc.
Cell Signaling Technology is a trademark of Cell Signaling Technology, Inc.