Product Pathways - Protein Folding
FKBP5 (D5G2) Rabbit mAb #12210

PhosphoSitePlus® protein, site, and accession data: FKBP5
| Item# | Description | List Price | Web Price | Qty | |
| --- | --- | --- | --- | --- | --- |
*On-line ordering is for Canadian customers only. Web pricing is applicable only to orders placed online at www.neb.ca
X
Companion Products
| Item# | Description | List Price | Web Price | Qty | |
| --- | --- | --- | --- | --- | --- |
Application
Dilution
Species-Reactivity
Sensitivity
MW (kDa)
Isotype
W

Human

,

Mouse

,

Rat

,

Monkey

Endogenous
51
Rabbit IgG
IP
Species cross-reactivity is determined by western blot.
Applications Key: W=Western Blotting, IP=Immunoprecipitation
Protocols
Specificity / Sensitivity
FKBP5 (D5G2) Rabbit mAb recognizes endogenous levels of total FKBP5 protein. This antibody does not cross-react with FKBP4 protein.
Source / Purification
Monoclonal antibody is produced by immunizing animals with a synthetic peptide corresponding to residues surrounding Arg222 of human FKBP5 protein.
Western Blotting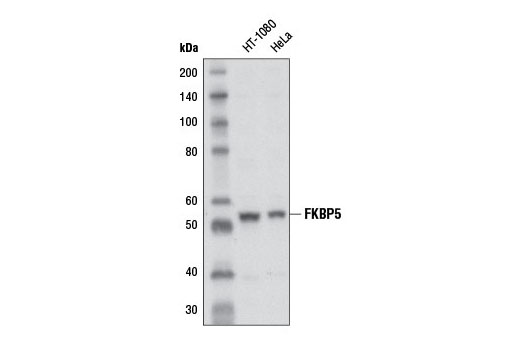 Western blot analysis of extracts from HT-1080 and HeLa cells using FKBP5 (D5G2) Rabbit mAb.
Background
FK506 binding protein 51 (FKBP51, also called FKBP5) belongs to the FKBP family of immunophilins (1). FKBP family proteins contain FK domains and TPR (tetratricopeptide repeat) domains. The FK domains are responsible for PPIase (peptidylprolyl isomerase) acitivity and allow binding to FK506 and rapamycin (2,3). The C terminal TPR domains are involved in protein-protein interactions. The TPR domain of FKBP5 mediates binding to HSP90 complexes (4), as well as glucocorticoid, androgen, and progesterone receptors, which account for its regulatory role in steroid hormone receptor function (5). FKBP5 also binds to IKKα and is involved in NF-κB signaling (6,7). In addition, FKBP5 was identified as a negative regulator of Akt, through promotion of Akt - PHLPP interaction and enhanced dephosphorylation of Akt (8).
Avilés, A. et al. (1995) Clin Oncol (R Coll Radiol) 7, 97-101.
Fruman, D.A. et al. (1994) FASEB J 8, 391-400.
Fix, M.L. et al. (2008) Blood Press Monit 13, 199-203.
Scheufler, C. et al. (2000) Cell 101, 199-210.
Schülke, J.P. et al. (2010) PLoS One 5, e11717.
Bouwmeester, T. et al. (2004) Nat Cell Biol 6, 97-105.
Avellino, R. et al. (2005) Blood 106, 1400-6.
Pei, H. et al. (2009) Cancer Cell 16, 259-66.
Application References
Have you published research involving the use of our products? If so we'd love to hear about it. Please let us know!
---
This product is intended for research purposes only. The product is not intended to be used for therapeutic or diagnostic purposes in humans or animals.
Cell Signaling Technology is a trademark of Cell Signaling Technology, Inc.