Product Pathways - Innate Immunity
Phospho-IRF-7 (Ser477) (D7E1W) Rabbit mAb #12390

PhosphoSitePlus® protein, site, and accession data: IRF7
| Item# | Description | List Price | Web Price | Qty | |
| --- | --- | --- | --- | --- | --- |
*On-line ordering is for Canadian customers only. Web pricing is applicable only to orders placed online at www.neb.ca
X
Companion Products
| Item# | Description | List Price | Web Price | Qty | |
| --- | --- | --- | --- | --- | --- |
| Application | Dilution | Species-Reactivity | Sensitivity | MW (kDa) | Isotype |
| --- | --- | --- | --- | --- | --- |
| W | | Human | Endogenous | 65 | Rabbit IgG |
Species cross-reactivity is determined by western blot.
Applications Key: W=Western Blotting
Homology
Species predicted to react based on 100% sequence homology: Monkey.
Specificity / Sensitivity
Phospho-IRF-7 (Ser477) (D7E1W) Rabbit mAb recognizes endogenous levels of IRF-7 protein only when phosphorylated at Ser477. This antibody can also detect IRF-7 when dually phosphorylated at Ser477 and Ser479. This antibody may cross-react with proteins of unknown origin between 100 and 150 kDa.
Source / Purification
Monoclonal antibody is produced by immunizing animals with a synthetic phosphopeptide corresponding to residues surrounding Ser477 of human IRF-7 protein.
Western Blotting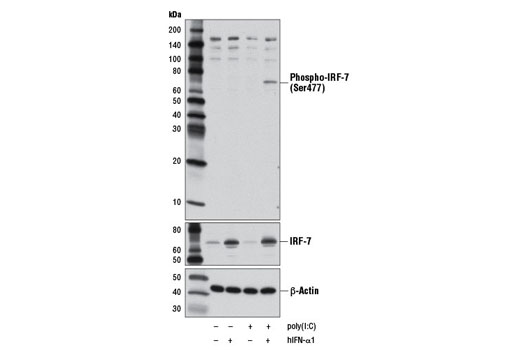 Western blot analysis of extracts from HT-29 cells, untreated or treated with Human Interferon-α1 (hIFN-α1) #8927 (10 ng/ml, overnight) followed by transfection with poly(I:C) (2.5 μg/ml, 7 hr), as indicated, using Phospho-IRF-7 (Ser477) (D7E1W) Rabbit mAb (upper), IRF-7 Antibody #4920 (middle), or β-Actin (D6A8) Rabbit mAb #8457 (lower).
Background
Interferon regulatory factors (IRFs) comprise a family of transcription factors that function within the Jak/Stat pathway to regulate interferon (IFN) and IFN-inducible gene expression in response to viral infection (1). IRFs play an important role in pathogen defense, autoimmunity, lymphocyte development, cell growth, and susceptibility to transformation. The IRF family includes nine members: IRF-1, IRF-2, IRF-9/ISGF3γ, IRF-3, IRF-4 (Pip/LSIRF/ICSAT), IRF-5, IRF-6, IRF-7, and IRF-8/ICSBP. All IRF proteins share homology in their amino-terminal DNA-binding domains. IRF family members regulate transcription through interactions with proteins that share similar DNA-binding motifs, such as IFN-stimulated response elements (ISRE), IFN consensus sequences (ICS), and IFN regulatory elements (IRF-E) (2).
IRF-7, which is functionally similar to IRF-3, is preferentially expressed in lymphoid cells and induced by virus, LPS, and IFN-α (3-5). IRF-7 plays an essential role in the induction of type I interferon in response to viral infection (6-8). Like IRF-3, IRF-7 is regulated at multiple serine phosphorylation sites near its carboxyl terminus, which are required for nuclear translocation, DNA binding, and transcriptional activity (9-11).
Taniguchi, T. et al. (2001) Annu Rev Immunol 19, 623-55.
Honda, K. and Taniguchi, T. (2006) Nat Rev Immunol 6, 644-58.
Au, W.C. et al. (1998) J Biol Chem 273, 29210-7.
Wathelet, M.G. et al. (1998) Mol Cell 1, 507-18.
Marié, I. et al. (1998) EMBO J 17, 6660-9.
Sato, M. et al. (2000) Immunity 13, 539-48.
Honda, K. et al. (2005) Nature 434, 772-7.
Colina, R. et al. (2008) Nature 452, 323-8.
Lin, R. et al. (2000) J Biol Chem 275, 34320-7.
Yang, H. et al. (2003) J Biol Chem 278, 15495-504.
Caillaud, A. et al. (2005) J Biol Chem 280, 17671-7.
Application References
Have you published research involving the use of our products? If so we'd love to hear about it. Please let us know!
---
This product is intended for research purposes only. The product is not intended to be used for therapeutic or diagnostic purposes in humans or animals.
Cell Signaling Technology is a trademark of Cell Signaling Technology, Inc.