Product Pathways - Protein Folding
DNAJC2/MPP11 (D6B1E) Rabbit mAb #12844

PhosphoSitePlus® protein, site, and accession data: DNAJC2
| Item# | Description | List Price | Web Price | Qty | |
| --- | --- | --- | --- | --- | --- |
*On-line ordering is for Canadian customers only. Web pricing is applicable only to orders placed online at www.neb.ca
X
Companion Products
| Item# | Description | List Price | Web Price | Qty | |
| --- | --- | --- | --- | --- | --- |
Application
Dilution
Species-Reactivity
Sensitivity
MW (kDa)
Isotype
W

Human

,

Mouse

,

Rat

,

Monkey

Endogenous
80
Rabbit IgG
IP
Species cross-reactivity is determined by western blot.
Applications Key: W=Western Blotting, IP=Immunoprecipitation
Protocols
Specificity / Sensitivity
DNAJC2/MPP11 (D6B1E) Rabbit mAb recognizes endogenous levels of total DNAJC2/MPP11 protein.
Source / Purification
Monoclonal antibody is produced by immunizing animals with a synthetic peptide corresponding to residues near the carboxy terminus of human DNAJC2/MPP11 protein.
Western Blotting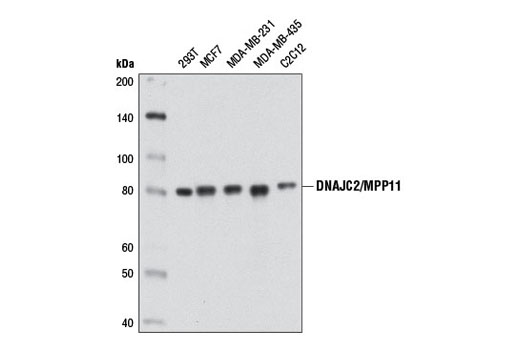 Western blot analysis of extracts from various cell lines using DNAJC2/MPP11 (D6B1E) Rabbit mAb.
Background
DnaJ/Hsp40 proteins are a conserved family of J-domain-containing chaperone proteins that assist in protein folding and stability through their interactions with Hsp70 chaperone proteins (reviewed in 1). DNAJC2, also known as MPP11 (M-phase phosphoprotein 11 protein) or ZRF1, is a component of the ribosome-associated complex (RAC). The RAC is localized to the cytoplasm, where it assists in maintaining appropriate folding of nascent polypeptides by stimulating the ATPase activity of Hsp70 chaperone proteins (2,3). In the nucleus, MPP11 is involved in the activation of transcription through mediation of the switch from polycomb-repressed to active chromatin (4). Previous studies have shown MPP11 is overexpressed in leukemia and head and neck cancer, leading researchers to suggest MPP11 may be a potential therapeutic target (5-7). MPP11 is phosphorylated at serine 47 by S6 kinase, which regulates senescence in fibroblast cells (8).
Qiu, X.B. et al. (2006) Cell Mol Life Sci 63, 2560-70.
Hundley, H.A. et al. (2005) Science 308, 1032-4.
Otto, H. et al. (2005) Proc Natl Acad Sci U S A 102, 10064-9.
Richly, H. et al. (2010) Nature 468, 1124-8.
Greiner, J. et al. (2003) Int J Cancer 106, 224-31.
Resto, V.A. et al. (2000) Cancer Res 60, 5529-35.
Tabarkiewicz, J. and Giannopoulos, K. (2010) Transplant Proc 42, 3293-6.
Barilari, M. et al. (2017) EMBO J 36, 736-750.
Application References
Have you published research involving the use of our products? If so we'd love to hear about it. Please let us know!
---
This product is intended for research purposes only. The product is not intended to be used for therapeutic or diagnostic purposes in humans or animals.
Cell Signaling Technology is a trademark of Cell Signaling Technology, Inc.