Product Pathways - Lineage Markers
DAZL (D2A4) Rabbit mAb (IHC Specific) #13057

PhosphoSitePlus® protein, site, and accession data: DAZL
| Item# | Description | List Price | Web Price | Qty | |
| --- | --- | --- | --- | --- | --- |
*On-line ordering is for Canadian customers only. Web pricing is applicable only to orders placed online at www.neb.ca
X
Companion Products
| Item# | Description | List Price | Web Price | Qty | |
| --- | --- | --- | --- | --- | --- |
Application
Dilution
Species-Reactivity
Sensitivity
MW (kDa)
Isotype
IHC-P

Human

,

Mouse

Endogenous
38
Rabbit IgG
Species cross-reactivity is determined by the application specified.
Applications Key: IHC-P=Immunohistochemistry (Paraffin)
Homology
Species predicted to react based on 100% sequence homology: Rat.
Protocols
Specificity / Sensitivity
DAZL (D2A4) (IHC Specific) Rabbit mAb recognizes endogenous levels of total DAZL protein.
Source / Purification
Monoclonal antibody is produced by immunizing animals with a synthetic peptide corresponding to residues near the carboxy terminus of human protein.
IHC-P (paraffin)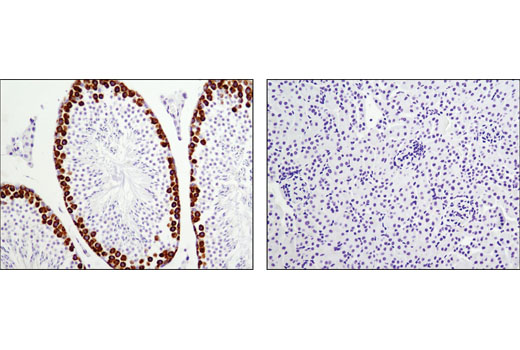 Immunohistochemical analysis of paraffin-embedded mouse testes (left) and mouse kidney (right) using DAZL (D2A4) Rabbit mAb (IHC Specific). As expected, kidney is DAZL negative.
Background
The human DAZ (Deleted in Azoospermia) gene family contains at least three members that encode RNA-binding proteins with a common RNA-recognition motif (1). An autosomal homolog of DAZ, DAZL (DAZ-like), is specifically expressed in germ cells and is essential for the specification of the germ cell lineage during embryogenesis and during gametogenesis in adults of both sexes (2,3). DAZL may function by directly recruiting poly(A)-binding proteins (PABPs) in order to activate silent mRNAs during germ cell development (2). Deletions encompassing the Y chromosomal DAZ genes are the most common molecularly defined cause of infertility in humans (4,5).
Yen, P.H. (2004) Int J Androl 27, 125-9.
Collier, B. et al. (2005) EMBO J 24, 2656-66.
Brook, M. et al. (2009) Reproduction 137, 595-617.
Reijo, R. et al. (1995) Nat Genet 10, 383-93.
Cooke, H.J. and Elliott, D.J. (1997) Trends Genet 13, 87-9.
Application References
Have you published research involving the use of our products? If so we'd love to hear about it. Please let us know!
---
This product is intended for research purposes only. The product is not intended to be used for therapeutic or diagnostic purposes in humans or animals.
Cell Signaling Technology is a trademark of Cell Signaling Technology, Inc.