Product Pathways - Innate Immunity
IFITM2 Antibody #13530

PhosphoSitePlus® protein, site, and accession data: IFITM2
| Item# | Description | List Price | Web Price | Qty | |
| --- | --- | --- | --- | --- | --- |
*On-line ordering is for Canadian customers only. Web pricing is applicable only to orders placed online at www.neb.ca
X
Companion Products
| Item# | Description | List Price | Web Price | Qty | |
| --- | --- | --- | --- | --- | --- |
Application
Dilution
Species-Reactivity
Sensitivity
MW (kDa)
Source
W

Human

Endogenous
15
Rabbit
IP
Species cross-reactivity is determined by western blot.
Applications Key: W=Western Blotting, IP=Immunoprecipitation
Protocols
Specificity / Sensitivity
IFITM2 Antibody recognizes endogenous levels of total IFITM2 protein. This antibody does not cross-react with IFITM1 or IFITM3 proteins.
Source / Purification
Polyclonal antibodies are produced by immunizing animals with a synthetic peptide corresponding to residues surrounding Pro40 of human IFITM2 protein. Antibodies are purified by protein A and peptide affinity chromatography.
Western Blotting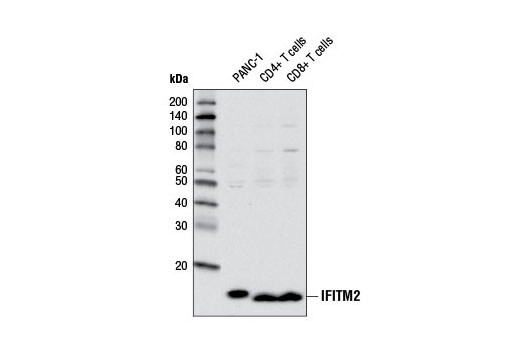 Western blot analysis of extracts from PANC-1 cells, human CD4+ T cells, and human CD8+ T cells using IFITM2 Antibody.
Western Blotting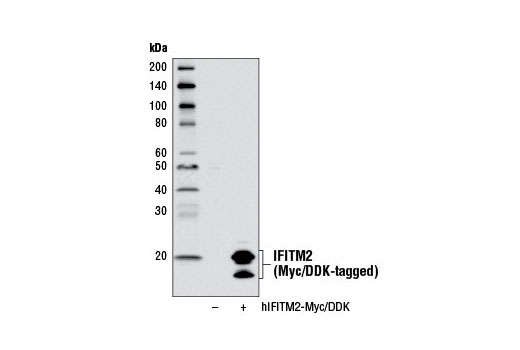 Western blot analysis of extracts from 293T cells, mock transfected (-) or transfected with a construct expressing Myc/DDK-tagged full-length human IFITM2 protein (hIFITM2; +), using IFITM2 Antibody.
IP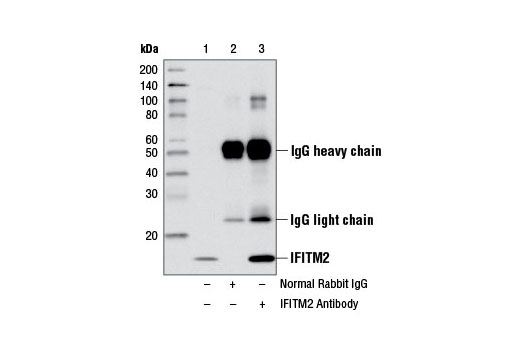 Immunoprecipitation of IFITM2 from HeLa cell extracts using Normal Rabbit IgG #2729 (lane 2) or IFITM2 Antibody (lane 3). Lane 1 is 10% input. Western blot analysis was performed using IFITM2 Antibody.
Background
Interferon-induced transmembrane protein (IFITM) family members are composed of short amino- and carboxy-termini, two transmembrane domains, and a cytoplasmic domain (1). There are four family members in humans: IFITM1, IFITM2, IFITM3, and IFITM5 (2,3). Mice have two additional family members, IFITM6 and IFITM7 (2,3). Basal expression of IFITM proteins is observed in some cells and expression can also be induced by type I and type II interferons (4-6). The primary function of IFITM family proteins appears to be viral restriction, as IFITM proteins inhibit cytosolic entry of viruses by preventing fusion of viral and host membranes (7,8). The mechanism by which IFITM proteins inhibit fusion is unclear. Although IFITM proteins are present on both the plasma membrane and intracellular membranes, they most effectively restrict viral fusion in late endosomes and lysosomes (8,9). In addition, different family members exhibit specific viral preferences (9). For example, IFITM3 is most effective at restricting influenza A infection, while IFITM1 is more successful in controlling filoviruses and SARS (9,10).
Diamond, M.S. and Farzan, M. (2013) Nat Rev Immunol 13, 46-57.
Lange, U.C. et al. (2003) BMC Dev Biol 3, 1.
Hickford, D. et al. (2012) BMC Genomics 13, 155.
Reid, L.E. et al. (1989) Proc Natl Acad Sci U S A 86, 840-4.
Lewin, A.R. et al. (1991) Eur J Biochem 199, 417-23.
Friedman, R.L. et al. (1984) Cell 38, 745-55.
Brass, A.L. et al. (2009) Cell 139, 1243-54.
Feeley, E.M. et al. (2011) PLoS Pathog 7, e1002337.
Huang, I.C. et al. (2011) PLoS Pathog 7, e1001258.
Everitt, A.R. et al. (2012) Nature 484, 519-23.
Application References
Have you published research involving the use of our products? If so we'd love to hear about it. Please let us know!
---
This product is intended for research purposes only. The product is not intended to be used for therapeutic or diagnostic purposes in humans or animals.
Tween is a registered trademark of ICI Americas, Inc.
Cell Signaling Technology is a trademark of Cell Signaling Technology, Inc.