Product Pathways - Cell Cycle / Checkpoint
Phospho-FoxM1 (Thr600) (D9M6G) Rabbit mAb #14655

PhosphoSitePlus® protein, site, and accession data: FOXM1
| Item# | Description | List Price | Web Price | Qty | |
| --- | --- | --- | --- | --- | --- |
*On-line ordering is for Canadian customers only. Web pricing is applicable only to orders placed online at www.neb.ca
X
Companion Products
| Item# | Description | List Price | Web Price | Qty | |
| --- | --- | --- | --- | --- | --- |
Application
Dilution
Species-Reactivity
Sensitivity
MW (kDa)
Isotype
W

Human

Endogenous
125
Rabbit IgG
IP
Species cross-reactivity is determined by western blot.
Applications Key: W=Western Blotting, IP=Immunoprecipitation
Protocols
Specificity / Sensitivity
Phospho-FoxM1 (Thr600) (D9M6G) Rabbit mAb recognizes endogenous levels of FoxM1 protein only when phosphorylated at Thr600.
Source / Purification
Monoclonal antibody is produced by immunizing animals with a synthetic phosphopeptide corresponding to residues surrounding Thr600 of human FoxM1 protein.
Western Blotting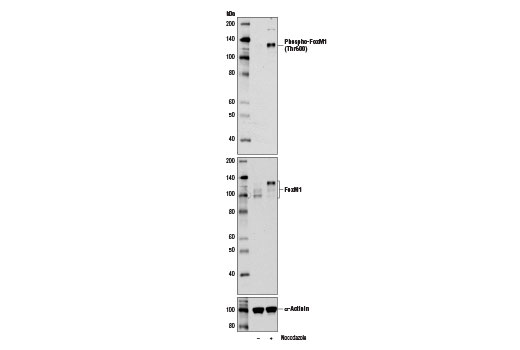 Western blot analysis of extracts from HeLa cells, untreated (-) or synchronized in mitosis with Nocodazole #2190 (100 ng/ml, 16 hr; +), using Phospho-FoxM1 (Thr600) (D9M6G) Rabbit mAb (upper), FoxM1 (D12D5) XP® Rabbit mAb #5436 (middle), and α-Actinin (D6F6) XP® Rabbit mAb #6487 (lower).
Background
Forkhead box M1 (FoxM1) is a forkhead box family transcription factor that regulates a number of genes throughout the cell cycle to help control DNA replication, mitosis, and cell proliferation. FoxM1 expression increases during G1 and S and reaches maximum levels in G2/M (1-3). Nuclear translocation occurs just before entry into G2/M and is associated with FoxM1 phosphorylation (4). Phosphorylation of FoxM1 by MAPK (Ser331, Ser704), Cyclin/Cdk (Ser4, Ser35, Thr600, Thr611, Thr620, Thr627, Ser638), Plk1 (Ser715, Ser724), and Chk2 (Ser376) stabilizes and activates FoxM1 (4-8). Forkhead box M1 is expressed in all embryonic tissues but is restricted to proliferating tissues in adults (9). Research studies show that FoxM1 expression is negatively regulated by p53 (10,11). Upregulation of FoxM1 is associated with many human cancers, including prostate, breast, lung, ovary, colon, pancreas, stomach, bladder, liver, and kidney, and may be associated with p53 mutations in some tumors (11,12). As a result, FoxM1 inhibitors have become a topic of interest for potential cancer therapy (13).
Wang, I.C. et al. (2005) Mol Cell Biol 25, 10875-94.
Leung, T.W. et al. (2001) FEBS Lett 507, 59-66.
Wang, X. et al. (2002) Proc Natl Acad Sci U S A 99, 16881-6.
Ma, R.Y. et al. (2005) J Cell Sci 118, 795-806.
Laoukili, J. et al. (2008) Mol Cell Biol 28, 3076-87.
Fu, Z. et al. (2008) Nat Cell Biol 10, 1076-82.
Tan, Y. et al. (2007) Mol Cell Biol 27, 1007-16.
Anders, L. et al. (2011) Cancer Cell 20, 620-34.
Ye, H. et al. (1997) Mol Cell Biol 17, 1626-41.
Barsotti, A.M. and Prives, C. (2009) Oncogene 28, 4295-305.
Pandit, B. et al. (2009) Cell Cycle 8, 3425-7.
Pilarsky, C. et al. (2004) Neoplasia 6, 744-50.
Gartel, A.L. (2008) Expert Opin Ther Targets 12, 663-5.
Application References
Have you published research involving the use of our products? If so we'd love to hear about it. Please let us know!
---
This product is intended for research purposes only. The product is not intended to be used for therapeutic or diagnostic purposes in humans or animals.
Tween is a registered trademark of ICI Americas, Inc.
XP is a registered trademark of Cell Signaling Technology, Inc.
Cell Signaling Technology is a trademark of Cell Signaling Technology, Inc.