Product Pathways - Innate Immunity
TREX1 (D8E2O) Rabbit mAb #15107

PhosphoSitePlus® protein, site, and accession data: TREX1
| Item# | Description | List Price | Web Price | Qty | |
| --- | --- | --- | --- | --- | --- |
*On-line ordering is for Canadian customers only. Web pricing is applicable only to orders placed online at www.neb.ca
X
Companion Products
| Item# | Description | List Price | Web Price | Qty | |
| --- | --- | --- | --- | --- | --- |
Application
Dilution
Species-Reactivity
Sensitivity
MW (kDa)
Isotype
W

Human

Endogenous
33
Rabbit IgG
IP
Species cross-reactivity is determined by western blot.
Applications Key: W=Western Blotting, IP=Immunoprecipitation
Protocols
Specificity / Sensitivity
TREX1 (D8E2O) Rabbit mAb recognizes endogenous levels of total TREX1 protein.
Source / Purification
Monoclonal antibody is produced by immunizing animals with a synthetic peptide corresponding to residues surrounding Pro298 of human TREX1 protein.
Western Blotting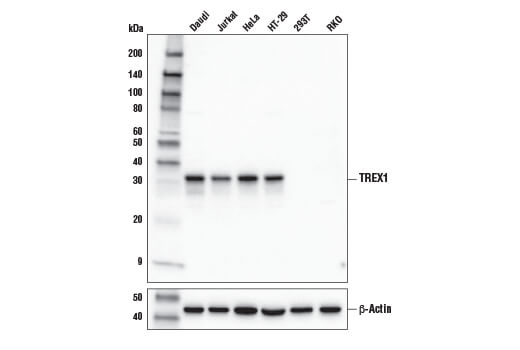 Western blot analysis of extracts from various cell lines using TREX1 (D8E2O) Rabbit mAb (upper) or β-Actin (D6A8) Rabbit mAb #8457 (lower).
Western Blotting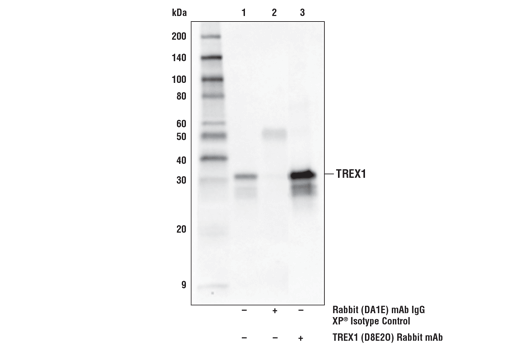 Immunoprecipitation of TREX1 from Jurkat cell extracts. Lane 1 is 10% input, lane 2 is Rabbit (DA1E) mAb IgG XP® Isotype Control #3900, and lane 3 is TREX1 (D8E2O)Rabbit mAb. Western blot analysis was performed using TREX1 (D8E2O) Rabbit mAb as the primary antibody and Mouse Anti-Rabbit IgG (Conformation Specific) (L29A9) mAb (HRP Conjugate) #5127.
Background
TREX1 is a broadly expressed 3' to 5' exonuclease that acts on single-stranded DNA (ssDNA) to negatively regulate the interferon-stimulatory DNA (ISD) response (1-4). In humans, there are three TREX1 isoforms generated through alternative splicing with predicted molecular weights of 32, 33, and 39 kDa (2). The transcript for the 33 kDa isoform is the most abundant (2). Mice deficient in TREX1 accumulate intracellular ssDNA, which triggers the ISD response and eventually lethal autoimmunity (3,4). Mutations in TREX1 are associated with autoimmune diseases including Aicardi-Goutieres syndrome and systemic lupus erythematosus (5,6). In addition, TREX1 prevents the cell-intrinsic innate immune response to human immunodeficiency virus (HIV) by digesting excess HIV DNA that would normally trigger induction of type I interferon (7).
Mazur, D.J. and Perrino, F.W. (1999) J Biol Chem 274, 19655-60.
Mazur, D.J. and Perrino, F.W. (2001) J Biol Chem 276, 14718-27.
Yang, Y.G. et al. (2007) Cell 131, 873-86.
Stetson, D.B. et al. (2008) Cell 134, 587-98.
Crow, Y.J. et al. (2006) Nat Genet 38, 917-20.
Lee-Kirsch, M.A. et al. (2007) Nat Genet 39, 1065-7.
Yan, N. et al. (2010) Nat Immunol 11, 1005-13.
Application References
Have you published research involving the use of our products? If so we'd love to hear about it. Please let us know!
---
This product is intended for research purposes only. The product is not intended to be used for therapeutic or diagnostic purposes in humans or animals.
Tween is a registered trademark of ICI Americas, Inc.
XP is a registered trademark of Cell Signaling Technology, Inc.
Cell Signaling Technology is a trademark of Cell Signaling Technology, Inc.