Product Pathways - Ca / cAMP / Lipid Signaling
Calretinin (E9R6G) Rabbit mAb #17114

PhosphoSitePlus® protein, site, and accession data: CALB2
| Item# | Description | List Price | Web Price | Qty | |
| --- | --- | --- | --- | --- | --- |
*On-line ordering is for Canadian customers only. Web pricing is applicable only to orders placed online at www.neb.ca
X
Companion Products
| Item# | Description | List Price | Web Price | Qty | |
| --- | --- | --- | --- | --- | --- |
Application
Dilution
Species-Reactivity
Sensitivity
MW (kDa)
Isotype
W

Human

,

Mouse

,

Rat

Endogenous
29
Rabbit IgG
IP
Species cross-reactivity is determined by western blot.
Applications Key: W=Western Blotting, IP=Immunoprecipitation
Protocols
Specificity / Sensitivity
Calretinin (E9R6G) Rabbit mAb recognizes endogenous levels of total Calretinin protein.
Source / Purification
Monoclonal antibody is produced by immunizing animals with a synthetic peptide corresponding to residues surrounding Glu149 of human Calretinin protein.
Western Blotting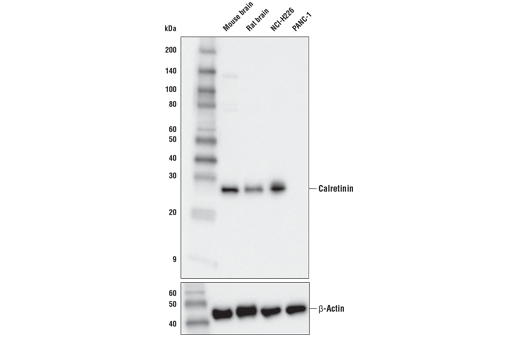 Western blot analysis of extracts from various tissues and cell lines using Calretinin (E9R6G) Rabbit mAb (upper) and β-Actin (D6A8) Rabbit mAb #8457 (lower).
IP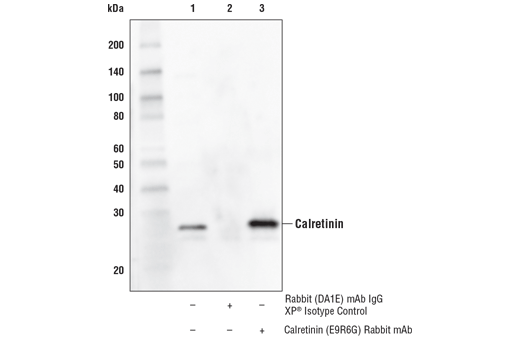 Immunoprecipitation of Calretinin protein from mouse brain tissue extracts. Lane 1 is 10% input, lane 2 is Rabbit (DA1E) mAb IgG XP® Isotype Control #3900, and lane 3 is Calretinin (E9R6G) Rabbit mAb. Western blot analysis was performed using Calretinin (E9R6G) Rabbit mAb as the primary antibody and using a light chain specific secondary antibody.
Background
Calretinin (29 kDa calbindin, calbindin 2) is a calcium-binding protein of the EF-hand family encoded by the CALB2 gene. It is differentially expressed from homologous family member calbindin-d28k in distinct neuronal populations of the retina, auditory system, and cerebellar granule cells (1, 2), and acts as a marker for specific neuronal subsets of the subthalamic nucleus and the substantia nigra (3). Calretinin has been shown to play an important role in modulating neuronal excitability and the induction of long-term potentiation (1). Research has shown that, pathologically, calretinin is a selective marker for epithelial mesothelioma, making it a diagnostic tool to differentiate from adenocarcinomas (4).
Camp, A.J. and Wijesinghe, R. (2009) Int J Biochem Cell Biol 41, 2118-21.
Rogers, J.H. (1987) J Cell Biol 105, 1343-53.
Fortin, M. and Parent, A. (1996) Brain Res 708, 201-4.
Gotzos, V. et al. (1996) Pathol Res Pract 192, 137-47.
Application References
Have you published research involving the use of our products? If so we'd love to hear about it. Please let us know!
---
This product is intended for research purposes only. The product is not intended to be used for therapeutic or diagnostic purposes in humans or animals.
Tween is a registered trademark of ICI Americas, Inc.
XP is a registered trademark of Cell Signaling Technology, Inc.
Cell Signaling Technology is a trademark of Cell Signaling Technology, Inc.