Product Pathways - Angiogenesis
Basic FGF Antibody #20102

PhosphoSitePlus® protein, site, and accession data: FGF2
| Item# | Description | List Price | Web Price | Qty | |
| --- | --- | --- | --- | --- | --- |
*On-line ordering is for Canadian customers only. Web pricing is applicable only to orders placed online at www.neb.ca
X
Companion Products
| Item# | Description | List Price | Web Price | Qty | |
| --- | --- | --- | --- | --- | --- |
Application
Dilution
Species-Reactivity
Sensitivity
MW (kDa)
Source
W

Human

Endogenous
18, 22, 24
Rabbit
IP
Species cross-reactivity is determined by western blot.
Applications Key: W=Western Blotting, IP=Immunoprecipitation
Protocols
Specificity / Sensitivity
Basic FGF Antibody recognizes endogenous levels of total basic FGF protein.
Source / Purification
Polyclonal antibodies are produced by immunizing animals with a synthetic peptide corresponding to residues surrounding Pro155 of human basic FGF protein. Antibodies are purified by protein A and peptide affinity chromatography.
Western Blotting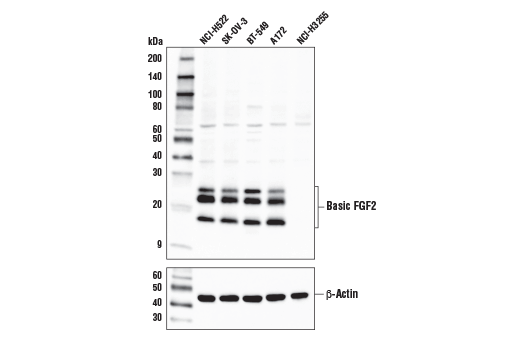 Western blot analysis of extracts from various cell lines using Basic FGF Antibody (upper) and β-Actin (D6A8) Rabbit mAb #8457 (lower).
IP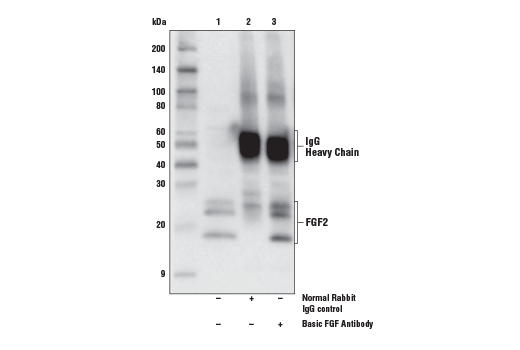 Immunoprecipitation of basic FGF protein from SK-OV-3 cell extracts. Lane 1 is 10% input, lane 2 is Normal Rabbit IgG control #2729, and lane 3 is Basic FGF Antibody. Western blot analysis was performed using Basic FGF Antibody. Anti-rabbit IgG, HRP-linked Antibody #7074 was used as secondary antibody.
Background
Fibroblast growth factors are a family of broad-spectrum growth factors influencing a plethora of cellular activities. The interaction of at least 23 ligands, 4 receptors and multiple coreceptors provides a dramatic complexity to a signaling system capable of effecting a multitude of responses (1,2). Basic fibroblast growth factor (bFGF or FGF2), initially identified as a mitogen with prominent angiogenic properties, is now recognized as a multifunctional growth factor (3). It is clear that bFGF produces its biological effects in target cells by signaling through cell-surface FGF receptors. bFGF binds to all four FGF receptors. Ligand binding induces receptor dimerization and autophosphorylation, allowing binding and activation of cytoplasmic downstream target proteins, including FRS-2, PLC and Crk (4,5). The FGF signaling pathway appears to play a significant role not only in normal cell growth regulation but also in tumor development and progression (6).
Acidic FGF (aFGF or FGF1) is another extensively investigated protein of the FGF family. aFGF shares 55% DNA sequence homology with bFGF. These two growth factors are ubiquitously expressed and exhibit a wide spectrum of similiar biological activities with quantitative differences likely due to variation in receptor affinity or binding (7).
Ledoux, D. et al. (1992) Prog. Growth Factor Res. 4, 107-120.
Application References
Have you published research involving the use of our products? If so we'd love to hear about it. Please let us know!
---
This product is intended for research purposes only. The product is not intended to be used for therapeutic or diagnostic purposes in humans or animals.
Tween is a registered trademark of ICI Americas, Inc.
Cell Signaling Technology is a trademark of Cell Signaling Technology, Inc.