Product Pathways - Protein Stability
Skp1 Antibody #2156

PhosphoSitePlus® protein, site, and accession data: SKP1A
| Item# | Description | List Price | Web Price | Qty | |
| --- | --- | --- | --- | --- | --- |
*On-line ordering is for Canadian customers only. Web pricing is applicable only to orders placed online at www.neb.ca
X
Companion Products
| Item# | Description | List Price | Web Price | Qty | |
| --- | --- | --- | --- | --- | --- |
Application
Dilution
Species-Reactivity
Sensitivity
MW (kDa)
Source
W

Human

,

Mouse

,

Rat

Endogenous
19
Rabbit
IF-IC
F
Species cross-reactivity is determined by western blot.
Applications Key: W=Western Blotting, IF-IC=Immunofluorescence (Immunocytochemistry), F=Flow Cytometry
Specificity / Sensitivity
Skp1 Antibody detects endogenous levels of total Skp1 protein.
Source / Purification
Polyclonal antibodies are produced by immunizing animals with a synthetic peptide corresponding to residues of human Skp1. Antibodies are purified by protein A and peptide affinity chromatography.
IF-IC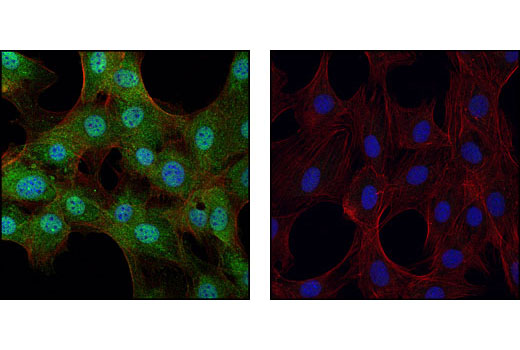 Confocal immunofluorescent images of NIH/3T3 cells labeled with Skp1 Antibody (green, left) compared to an isotype control (right). Actin filaments have been labeled with Alexa Fluor® 555 phalloidin (red). Blue pseudocolor = DRAQ5® #4084 (fluorescent DNA dye).
Flow Cytometry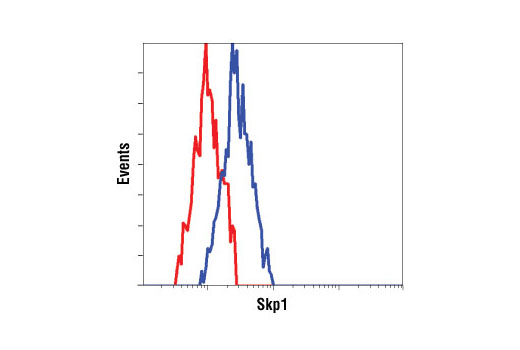 Flow cytometric analysis of NIH/3T3 cells using Skp1 antibody (blue) compared to a nonspecific negative control antibody (red).
Background
Ubiquitin can be covalently linked to many cellular proteins by the ubiquitination process, which targets proteins for degradation by the 26S proteasome. Three components are involved in the target protein-ubiquitin conjugation process. Ubiquitin is first activated by forming a thiolester complex with the activation component E1; the activated ubiquitin is subsequently transferred to the ubiquitin-carrier protein E2 and then from E2 to ubiquitin ligase E3 for final delivery to the epsilon-NH2 of the target protein lysine residue (1-3). Combinatorial interactions of different E2 and E3 proteins result in substrate specificity (4). Recent data suggests that activated E2 associates transiently with E3, and the dissociation is a critical step for ubiquitination (5). S phase kinase-associated protein 1 (Skp1) is a critical scaffold protein of the Skp1/CUL1/F-box (SCF) E3 ubiquitin ligase protein complex. Various F-box proteins (e.g., β-TrCP, Skp2) mediate an interaction with Skp1, via their defining and conserved domain of 40 amino acids, and with substrates to be ubiquitinated (e.g., β-catenin, p27) (4).
Ciechanover, A. (1998) EMBO J. 17, 7151-60.
Hochstrasser, M. (2000) Nat. Cell Biol. 2, E153-7.
Hochstrasser, M. (2000) Science 289, 563-4.
DeSalle, L.M. and Pagano, M. (2001) FEBS Lett. 490, 179-89.
Deffenbaugh, A.E. et al. (2003) Cell 114, 611-22.
Application References
Yamada, K. et al. (2011) J Biol Chem 286, 44057-66. Applications: Western Blotting.
Have you published research involving the use of our products? If so we'd love to hear about it. Please let us know!
---
This product is intended for research purposes only. The product is not intended to be used for therapeutic or diagnostic purposes in humans or animals.
DRAQ5 is a registered trademark of Biostatus Limited.
Alexa Fluor is a registered trademark of Life Technologies Corporation.
Cell Signaling Technology is a trademark of Cell Signaling Technology, Inc.