Product Pathways -
FastScan™ Total Zap-70 ELISA Kit #23925
| Item# | Description | List Price | Web Price | Qty | |
| --- | --- | --- | --- | --- | --- |
*On-line ordering is for Canadian customers only. Web pricing is applicable only to orders placed online at www.neb.ca
X
Companion Products
| Item# | Description | List Price | Web Price | Qty | |
| --- | --- | --- | --- | --- | --- |
Description
The FastScan™ Total Zap-70 ELISA Kit is a sandwich enzyme-linked immunosorbent assay (ELISA) that detects endogenous levels of Zap-70. To perform the assay, sample is incubated with a capture antibody conjugated with a proprietary tag and a second detection antibody linked to HRP, forming a sandwich with Zap-70 in solution. This entire complex is immobilized to the plate via an anti-tag antibody. The wells are then washed to remove unbound material. TMB is then added. The magnitude of observed signal is proportional to the quantity of Zap-70. Antibodies in kit are custom formulations specific to kit.
Cell-based assay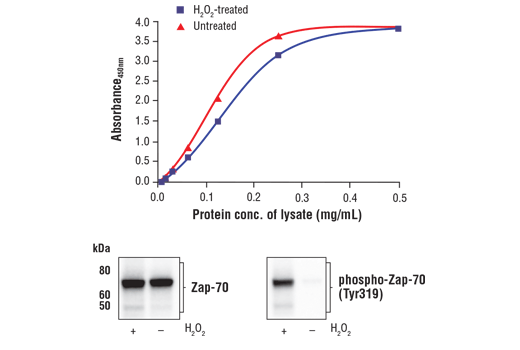 Figure 1. Treatment of Jurkat cells with H2O2 stimulates phosphorylation of Zap-70 at Tyr319 but does not affect the level of total Zap-70. The relationship between lysate protein concentration from untreated and H2O2-treated Jurkat cells and the absorbance at 450 nm using the FastScan™ Total Zap-70 ELISA Kit #23925 is shown in the upper figure. The corresponding western blots using Zap-70 antibody (left panel) and phospho-Zap-70 (Tyr319) antibody (right panel) are shown in the lower figure. After serum starvation, Jurkat cells were treated with 11 mM H2O2 for 3 minutes at 37°C and then lysed.
Background
The Syk family protein tyrosine kinase Zap-70 is expressed in T and NK cells and plays a critical role in mediating T cell activation in response to T cell receptor (TCR) engagement (1). Following TCR engagement, Zap-70 is rapidly phosphorylated on several tyrosine residues through autophosphorylation and transphosphorylation by the Src family tyrosine kinase Lck (2-6). Tyrosine phosphorylation correlates with increased Zap-70 kinase activity and downstream signaling events. Expression of Zap-70 is correlated with disease progression and survival in patients with chronic lymphocytic leukemia (7,8).
Chu, D.H. et al. (1998) Immunol Rev 165, 167-80.
Iwashima, M. et al. (1994) Science 263, 1136-9.
Neumeister, E.N. et al. (1995) Mol Cell Biol 15, 3171-8.
Chan, A.C. et al. (1995) EMBO J 14, 2499-508.
Williams, B.L. et al. (1999) EMBO J 18, 1832-44.
Di Bartolo, V. et al. (1999) J Biol Chem 274, 6285-94.
Wiestner, A. et al. (2003) Blood 101, 4944-51.
Crespo, M. et al. (2003) N Engl J Med 348, 1764-75.
Application References
Have you published research involving the use of our products? If so we'd love to hear about it. Please let us know!
---
This product is intended for research purposes only. The product is not intended to be used for therapeutic or diagnostic purposes in humans or animals.
FastScan™ ELISA is a trademark of Cell Signaling Technology, Inc.
Cell Signaling Technology is a trademark of Cell Signaling Technology, Inc.
U.S. Patent No. 7,429,487, foreign equivalents, and child patents deriving therefrom.
U.S. Patents 9,086,407, 9,261,500, and 9,476,874, foreign equivalents, and child patents deriving therefrom.