Product Pathways - Protein Translation
EDC4/Ge-1 Antibody #2548

PhosphoSitePlus® protein, site, and accession data: EDC4
| Item# | Description | List Price | Web Price | Qty | |
| --- | --- | --- | --- | --- | --- |
*On-line ordering is for Canadian customers only. Web pricing is applicable only to orders placed online at www.neb.ca
X
Companion Products
| Item# | Description | List Price | Web Price | Qty | |
| --- | --- | --- | --- | --- | --- |
Application
Dilution
Species-Reactivity
Sensitivity
MW (kDa)
Source
W

Human

,

Mouse

,

Monkey

Endogenous
170
Rabbit
IP
IF-IC
Species cross-reactivity is determined by western blot.
Applications Key: W=Western Blotting, IP=Immunoprecipitation, IF-IC=Immunofluorescence (Immunocytochemistry)
Protocols
Specificity / Sensitivity
EDC4/Ge-1 Antibody detects endogenous levels of total EDC4/Ge-1 protein.
Source / Purification
Polyclonal antibodies are produced by immunizing animals with a synthetic peptide corresponding to residues near the amino terminus of human EDC4/Ge-1 protein. Antibodies are purified by protein A and peptide affinity chromatography.
Western Blotting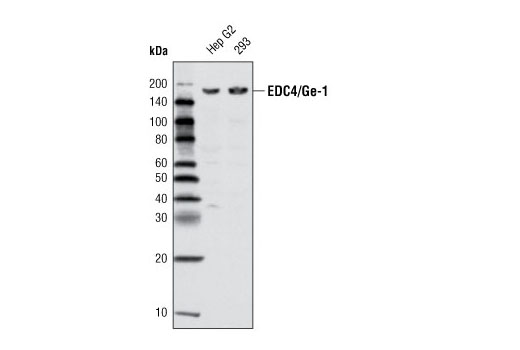 Western blot analysis of extracts from 293 and Hep G2 cells using EDC4/Ge-1 Antibody.
Background
Enhancer of mRNA decapping 4 (EDC4) was originally identified as the autoantigen Ge-1 from a Sjögren's syndrome patient later diagnosed with primary biliary cirrhosis (1). EDC4 (also known as HEDLS) was later identified as an essential component of cytoplasmic P-bodies responsible for mRNA decapping and degradation (2). Identified EDC4 protein is found as a pair of isoforms generated by alternative splicing and contains several WD domains and a putative nuclear localization signal. EDC4 co-localizes with other P-body decapping proteins such as DCP1A, DCP2 and GW182 (2,3). Experimental evidence suggests that EDC4 may be involved in miRNA-mediated translation repression (4).
Bloch, D.B. et al. (1994) Clin Immunol Immunopathol 72, 380-9.
Yu, J.H. et al. (2005) RNA 11, 1795-802.
Fenger-Grøn, M. et al. (2005) Mol Cell 20, 905-15.
Brodersen, P. et al. (2008) Science 320, 1185-90.
Application References
Have you published research involving the use of our products? If so we'd love to hear about it. Please let us know!
---
This product is intended for research purposes only. The product is not intended to be used for therapeutic or diagnostic purposes in humans or animals.
DRAQ5 is a registered trademark of Biostatus Limited.
Cell Signaling Technology is a trademark of Cell Signaling Technology, Inc.