Tag Antibodies
GST (26H1) Mouse mAb #2624

PhosphoSitePlus® protein, site, and accession data:
| Item# | Description | List Price | Web Price | Qty | |
| --- | --- | --- | --- | --- | --- |
*On-line ordering is for Canadian customers only. Web pricing is applicable only to orders placed online at www.neb.ca
X
Companion Products
| Item# | Description | List Price | Web Price | Qty | |
| --- | --- | --- | --- | --- | --- |
Application
Dilution
Sensitivity
Isotype
W
Transfected Only
Mouse IgG2a
IP
IF-IC
Applications Key: W=Western Blotting, IP=Immunoprecipitation, IF-IC=Immunofluorescence (Immunocytochemistry)
Protocols
Specificity / Sensitivity
GST (26H1) Mouse mAb detects transfected glutathione S-transferase (GST) fusion proteins.
Source / Purification
Monoclonal antibody is produced by immunizing animals with a GST fusion protein.
Western Blotting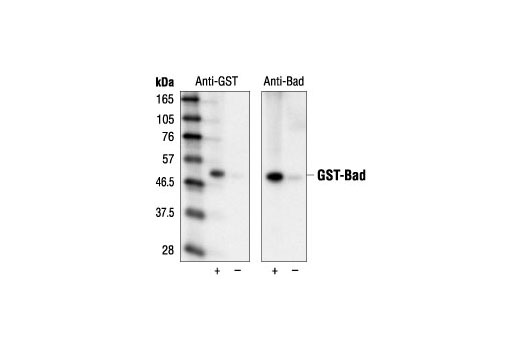 Western blot analysis of extracts from transfected COS-7 cells overexpressing GST-Bad and untransfected control, using GST (26H1) Mouse mAb (left) or anti-Bad Antibody (right).
Background
Epitope tags are useful for the labeling and detection of proteins using immunoblotting, immunoprecipitation, and immunostaining techniques. Because of their small size, they are unlikely to affect the tagged protein's biochemical properties.
Glutathione S-transferase (GST) is a widely used fusion partner, since it provides both an easily detectable Tag and a simple purification process with little effect on the biological function of the protein of interest. Numerous vectors containing GST-Tag have been developed for both prokaryotic and eukaryotic systems over the past decade (1-3).
Guan, K.L. and Dixon, J.E. (1991) Anal Biochem 192, 262-7.
Davies, A.H. et al. (1993) Biotechnology (N Y) 11, 933-6.
Yu, J. et al. (1998) Mol Cell Biol 18, 1379-87.
Application References
Have you published research involving the use of our products? If so we'd love to hear about it. Please let us know!
---
This product is intended for research purposes only. The product is not intended to be used for therapeutic or diagnostic purposes in humans or animals.
Cell Signaling Technology is a trademark of Cell Signaling Technology, Inc.