Product Pathways - Companion Products
Anti-rat IgG (H+L), (Alexa Fluor® 647 Conjugate) #4418
| Item# | Description | List Price | Web Price | Qty | |
| --- | --- | --- | --- | --- | --- |
*On-line ordering is for Canadian customers only. Web pricing is applicable only to orders placed online at www.neb.ca
X
Companion Products
| Item# | Description | List Price | Web Price | Qty | |
| --- | --- | --- | --- | --- | --- |
Specificity / Sensitivity
IgG is prepared from goat antibodies that have been adsorbed against mouse IgG, mouse serum and human serum.
Flow Cytometry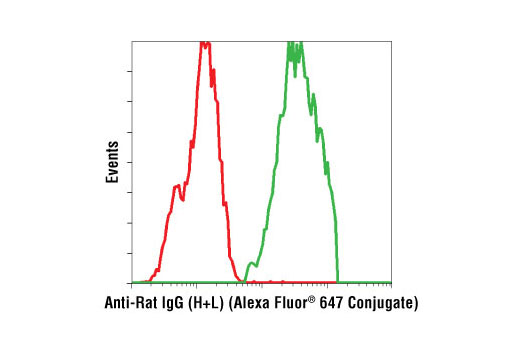 Flow cytometric analysis of untreated HeLa cells using HSP70 (6B3) Rat mAb #4873 detected with Anti-rat IgG (H+L), (Alexa Fluor® 647 Conjugate) (green) and compared to a nonspecific negative control antibody (red).
IF-IC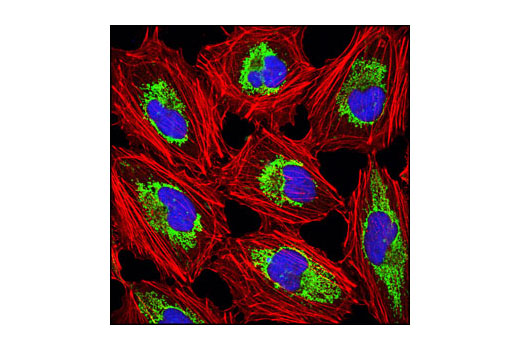 Confocal immunofluorescent analysis of HeLa cells using ORC2 (3G6) Rat mAb #4736 detected with Anti-rat IgG (H+L), (Alexa Fluor® 647 Conjugate) (blue) and COX IV (3E11) Rabbit mAb #4850 detected with Anti-rabbit IgG (H+L), F(ab')2 Fragment (Alexa Fluor® 488 Conjugate) #4412 (green). Actin filaments have been labeled with DY-554 phalloidin (red).
Description
Anti-rat IgG (H+L) was conjugated to Alexa Fluor® 647 fluorescent dye under optimal conditions and formulated at 2 mg/ml.
Directions For Use
The optimal dilution of the anti-species antibody should be determined for each primary antibody by titration. However, a final dilution of 1:500 - 1:2000 should yield acceptable results for immunofluorescent and flow cytometry assays.
Background
This product has been optimized for use as a secondary antibody in immunofluorescent applications. Fluorescent anti-species IgG conjugates are ideal for flow cytometry and immunofluorescence. Cell Signaling Technology's strict quality control procedures assure that each conjugate provides optimal specificity and fluorescence.
Application References
Have you published research involving the use of our products? If so we'd love to hear about it. Please let us know!
---
This product is intended for research purposes only. The product is not intended to be used for therapeutic or diagnostic purposes in humans or animals.
Alexa Fluor is a registered trademark of Life Technologies Corporation.
Cell Signaling Technology is a trademark of Cell Signaling Technology, Inc.
The Alexa Fluor dye antibody conjugates in this product are sold under license from Life Technologies Corporation, for research use only for immunocytometry, immunohistochemistry, high content screening (HCS) analysis, or flow cytometry applications.
The transfer of this product is contingent on the buyer using the purchased product solely in research conducted by the buyer (whether the buyer is an academic or for-profit entity), for Immunocytochemistry, high content screening (HCS) analysis, or flow cytometry applications. The sale of this product is expressly conditioned on the buyer not using the product or its components (1) in manufacturing; (2) to provide a service, information, or data to an unaffiliated third party for payment; (3) for therapeutic, diagnostic or prophylactic purposes; (4) resale, whether or not such product or its components are resold for use in research; or for any other commercial purpose. For information on purchasing a license to this product for purposes other than research, contact Life Technologies Corporation, 5791 Van Allen Way, Carlsbad, CA 92008 USA or outlicensing@lifetech.com.