Product Pathways - NF-kB Signaling
Phospho-NF-κB2 p100 (Ser866/870) Antibody #4810

PhosphoSitePlus® protein, site, and accession data: NFkB-p100
| Item# | Description | List Price | Web Price | Qty | |
| --- | --- | --- | --- | --- | --- |
*On-line ordering is for Canadian customers only. Web pricing is applicable only to orders placed online at www.neb.ca
X
Companion Products
| Item# | Description | List Price | Web Price | Qty | |
| --- | --- | --- | --- | --- | --- |
Application
Dilution
Species-Reactivity
Sensitivity
MW (kDa)
Source
W

Human

,

Mouse

Transfected Only
110
Rabbit
IP
Species cross-reactivity is determined by western blot.
Applications Key: W=Western Blotting, IP=Immunoprecipitation
Homology
Species predicted to react based on 100% sequence homology: Rat, Bovine, Dog.
Protocols
Specificity / Sensitivity
Phospho-NF-κB2 p100 (Ser866/870) Antibody detects transfected NF-κB2 p100 when phosphorylated at serines 866 and 870.
Source / Purification
Polyclonal antibodies are produced by immunizing animals with a synthetic phosphopeptide corresponding to residues surrounding serines 866/870 of NF-κB2 p100. Nomenclature refers to the human sequence (SwissProt# Q00653). This site is homologous to rat Ser864/868 (Q5U2Z4) and mouse Ser865/869 (Q9WTK5). Antibodies are purified by protein A and peptide affinity chromatography.
Western Blotting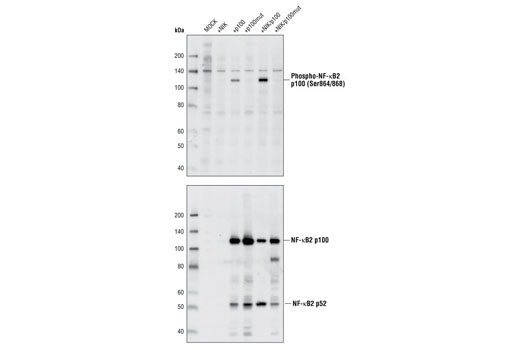 Western blot analysis of extracts from HeLa cells transfected with wild-type or mutant NF-κB2 p100 (SS866/870AA) and with or without NIK, using Phospho-NF-κB2 p100 (Ser866/870) Antibody or total NF-κB2 p100 Antibody #4882. The p100 constructs were generously provided by Dr. Warner Greene of the Gladstone Institute of Virology and Immunology, Dr. Shao-Cong Sun of The Pennsylvania State University College of Medicine, and Dr. Gutian Xiao of Rutgers, The State University of New Jersey.
Background
Transcription factors of the nuclear factor κB (NF-κB)/Rel family play a pivotal role in inflammatory and immune responses (1,2). There are five family members in mammals: RelA, c-Rel, RelB, NF-κB1 (p105/p50), and NF-κB2 (p100/p52). Both p105 and p100 are proteolytically processed by the proteasome to produce p50 and p52, respectively. Rel proteins bind p50 and p52 to form dimeric complexes that bind DNA and regulate transcription. In unstimulated cells, NF-κB is sequestered in the cytoplasm by IκB inhibitory proteins (3-5). NF-κB-activating agents can induce the phosphorylation of IκB proteins, targeting them for rapid degradation through the ubiquitin-proteasome pathway and releasing NF-κB to enter the nucleus where it regulates gene expression (6-8). NIK and IKKα (IKK1) regulate the phosphorylation and processing of NF-κB2 (p100) to produce p52, which translocates to the nucleus (9-11).
Baeuerle, P.A. and Henkel, T. (1994) Annu Rev Immunol 12, 141-79.
Baeuerle, P.A. and Baltimore, D. (1996) Cell 87, 13-20.
Haskill, S. et al. (1991) Cell 65, 1281-9.
Thompson, J.E. et al. (1995) Cell 80, 573-82.
Whiteside, S.T. et al. (1997) EMBO J 16, 1413-26.
Traenckner, E.B. et al. (1995) EMBO J 14, 2876-83.
Scherer, D.C. et al. (1995) Proc Natl Acad Sci USA 92, 11259-63.
Chen, Z.J. et al. (1996) Cell 84, 853-62.
Senftleben, U. et al. (2001) Science 293, 1495-9.
Coope, H.J. et al. (2002) EMBO J 21, 5375-85.
Xiao, G. et al. (2001) Mol Cell 7, 401-9.
Application References
Saitoh, Y. et al. (2008) Blood 111, 5118-29. Applications: Western Blotting.
Have you published research involving the use of our products? If so we'd love to hear about it. Please let us know!
---
This product is intended for research purposes only. The product is not intended to be used for therapeutic or diagnostic purposes in humans or animals.
Cell Signaling Technology is a trademark of Cell Signaling Technology, Inc.