Product Pathways - Protein Folding
HSP60 (D307) Antibody #4870
Have you tried your application using our XP® monoclonal antibodies? Try products: 12165

PhosphoSitePlus® protein, site, and accession data: HSP60
| Item# | Description | List Price | Web Price | Qty | |
| --- | --- | --- | --- | --- | --- |
*On-line ordering is for Canadian customers only. Web pricing is applicable only to orders placed online at www.neb.ca
X
Companion Products
| Item# | Description | List Price | Web Price | Qty | |
| --- | --- | --- | --- | --- | --- |
Application
Dilution
Species-Reactivity
Sensitivity
MW (kDa)
Source
W

Human

,

Mouse

,

Rat

,

Monkey

,

D. melanogaster

Endogenous
60
Rabbit
IF-IC
F
Species cross-reactivity is determined by western blot.
Applications Key: W=Western Blotting, IF-IC=Immunofluorescence (Immunocytochemistry), F=Flow Cytometry
Specificity / Sensitivity
HSP60 (D307) Antibody detects endogenous levels of total HSP60 protein. This antibody does not cross-react with other HSPs.
Source / Purification
Polyclonal antibodies are produced by immunizing animals with a synthetic peptide surrounding Asp307 of human HSP60. Antibodies are purified by protein A and peptide affinity chromatography.
Western Blotting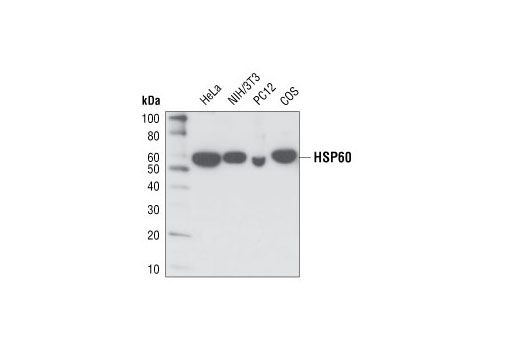 Western blot analysis of extracts from various cell types using HSP60 (D307) Antibody.
IF-IC
Confocal immunofluorescent analysis of HeLa cells using HSP60 (D307) Antibody (green). Actin filaments have been labeled with Alexa Fluor® 555 phalloidin (red). Blue pseudocolor = DRAQ5® #4084 (fluorescent DNA dye).
Flow Cytometry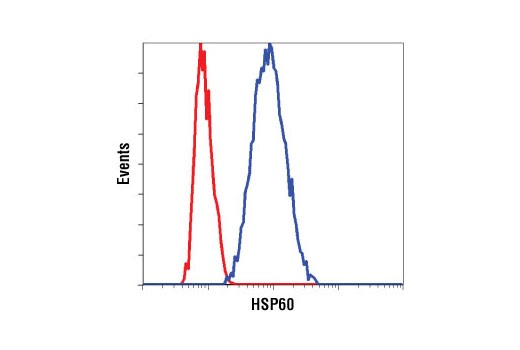 Flow cytometric analysis of HeLa cells using HSP60 (D307) Antibody (blue) compared to a nonspecific negative control antibody (red).
Background
In both prokaryotic and eukaryotic cells the misfolding and aggregation of proteins during biogenesis and under conditions of cellular stress are prevented by molecular chaperones (1-3). HSP60 has primarily been known as a mitochondrial protein that is important for folding key proteins after import into the mitochondria (4). Research studies have shown that a significant amount of HSP60 is also present in the cytosol of many cells, and that it is induced by stress, inflammatory and immune responses, and autoantibodies correlated with Alzheimer's, coronary artery diseases, MS, and diabetes (5-8).
Hartl, F.U. (1996) Nature 381, 571-579.
Bukau, B. and Horwich, A.L. (1998) Cell 92, 351-366.
Hartl, F.U. and Hayer-Hartl, M. (2002) Science 295, 1852-1858.
Jindal, S. et al. (1989) Mol. Cell Biol. 9, 2279-2283.
Itoh, H. et al. (2002) Eur. J. Biochem. 269, 5931-5938.
Gupta, S. and Knowlton, A.A. J. Cell Mol. Med. 9, 51-58.
Deocaris, C.C. et al. (2006) Cell Stress Chaperones 11, 116-128.
Lai, H.C. et al. (2007) Am. J. Physiol. Endocrinol. Metab. 292, E292-E297.
Application References
Have you published research involving the use of our products? If so we'd love to hear about it. Please let us know!
---
This product is intended for research purposes only. The product is not intended to be used for therapeutic or diagnostic purposes in humans or animals.
DRAQ5 is a registered trademark of Biostatus Limited.
Alexa Fluor is a registered trademark of Life Technologies Corporation.
Cell Signaling Technology is a trademark of Cell Signaling Technology, Inc.