Product Pathways - Protein Folding
HSP40 (C64B4) Rabbit mAb #4871

PhosphoSitePlus® protein, site, and accession data: HSP40
| Item# | Description | List Price | Web Price | Qty | |
| --- | --- | --- | --- | --- | --- |
*On-line ordering is for Canadian customers only. Web pricing is applicable only to orders placed online at www.neb.ca
X
Companion Products
| Item# | Description | List Price | Web Price | Qty | |
| --- | --- | --- | --- | --- | --- |
Application
Dilution
Species-Reactivity
Sensitivity
MW (kDa)
Isotype
W

Human

,

Mouse

,

Rat

,

Monkey

Endogenous
40
Rabbit
IHC-P
Species cross-reactivity is determined by western blot.
Applications Key: W=Western Blotting, IHC-P=Immunohistochemistry (Paraffin)
Protocols
Specificity / Sensitivity
HSP40 (C64B4) Rabbit mAb detects endogenous levels of total HSP40 protein. This antibody does not cross-react with other HSPs.
Source / Purification
Monoclonal antibody is produced by immunizing animals with a synthetic peptide corresponding to Glu223 of human HSP40/Hdj1.
Western Blotting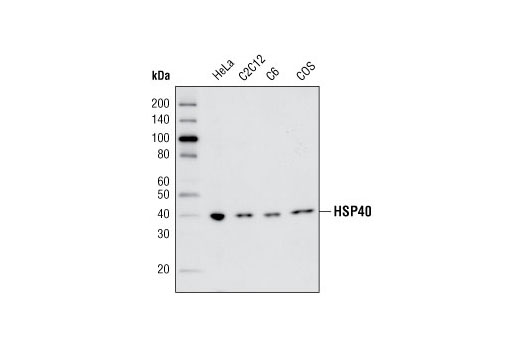 Western blot analysis of extracts from HeLa, C2C12, C6 and COS cells using HSP40 (C64B4) Rabbit mAb.
Background
HSP40 and HSP40-like proteins represent a large family of chaperone proteins that are homologous to E. coli DnaJ protein (1). These proteins are classified into three subtypes based on their structures. The common feature of the family is a conserved J domain, which is usually located at the amino terminus of proteins and responsible for their association with HSP70 (1,2). Human HSP40, also known as Hdj1, belongs to subtype II that contain a unique Gly/Phe-rich region (2). HSP40 family proteins bind unfolded proteins, prevent their aggregation, and then deliver them to HSP70 (2,3). Another major function of HSP40 is to stimulate ATPase activity of HSP70, which causes conformational change of the unfolded proteins (4,5). The HSP40-HSP70-unfolded protein complex further binds to co-chaperones Hip, Hop and HSP90 or components of the protein degradation machinery such as CHIP and BAG-1, which either leads to protein folding or degradation, respectively (6).
Cheetham, M.E. and Caplan, A.J. (1998) Cell Stress Chaperones 3, 28-36.
Fan, C.Y. et al. (2003) Cell Stress Chaperones 8, 309-316.
Langer, T. et al. (1992) Nature 356, 683-689.
Liberek, K. et al. (1991) Proc. Natl. Acad. Sci. USA 88, 2874-2878.
Cyr, D.M. et al. (1992) J. Biol. Chem. 267, 20927-20931.
Höhfeld, J. et al. (2001) EMBO Rep. 2, 885-890.
Application References
Have you published research involving the use of our products? If so we'd love to hear about it. Please let us know!
---
This product is intended for research purposes only. The product is not intended to be used for therapeutic or diagnostic purposes in humans or animals.
Cell Signaling Technology is a trademark of Cell Signaling Technology, Inc.
U.S. Patent No. 7,429,487, foreign equivalents, and child patents deriving therefrom.