Product Pathways - DNA Damage
Phospho-RPA32/RPA2 (Ser8) (E5A2F) Rabbit mAb #54762

PhosphoSitePlus® protein, site, and accession data: RFA2
| Item# | Description | List Price | Web Price | Qty | |
| --- | --- | --- | --- | --- | --- |
*On-line ordering is for Canadian customers only. Web pricing is applicable only to orders placed online at www.neb.ca
X
Companion Products
| Item# | Description | List Price | Web Price | Qty | |
| --- | --- | --- | --- | --- | --- |
Application
Dilution
Species-Reactivity
Sensitivity
MW (kDa)
Isotype
W

Human

Endogenous
32
Rabbit IgG
IF-IC
F
Species cross-reactivity is determined by western blot.
Applications Key: W=Western Blotting, IF-IC=Immunofluorescence (Immunocytochemistry), F=Flow Cytometry
Specificity / Sensitivity
Phospho-RPA32/RPA2 (Ser8) (E5A2F) Rabbit mAb recognizes endogenous levels of RPA32/RPA2 protein only when phosphorylated at Ser8.
Source / Purification
Monoclonal antibody is produced by immunizing animals with a synthetic peptide corresponding to residues surrounding Ser8 of human RPA32/RPA2 protein.
Western Blotting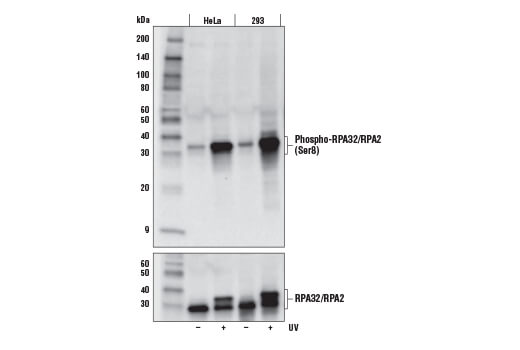 Western blot analysis of extracts from HeLa and 293 cells, untreated or treated with UV (100 mJ/cm2, 2 hr recovery), using Phospho-RPA32 (Ser8) (E5A2F) Rabbit mAb (upper) or total RPA32/RPA2 Antibody #52448 (lower).
IF-IC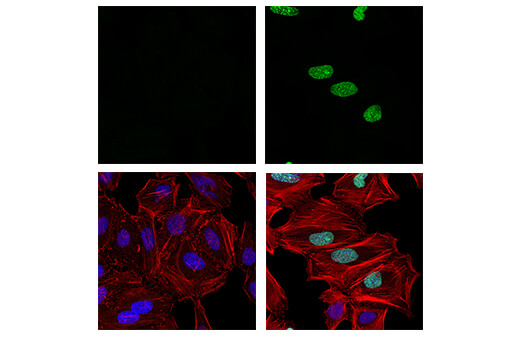 Confocal immunofluorescent analysis of HeLa cells, untreated (left) or treated with UV (100 mJ/cm2, 2 hr recovery; right), using Phospho-RPA32/RPA2 (Ser8) (E5A2F) Rabbit mAb (green). Actin filaments were labeled with DyLight™ 594 Phalloidin #12877 (red). Blue = DAPI #4083 (fluorescent DNA dye).
Flow Cytometry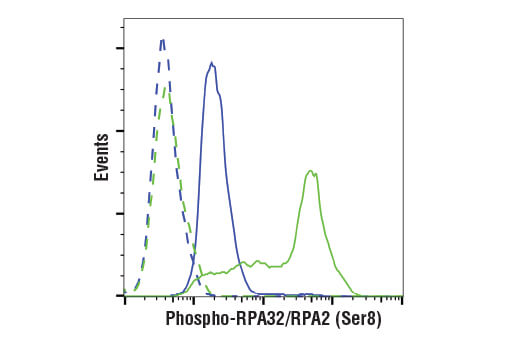 Flow cytometric analysis of 293T cells, untreated (blue) or treated with UV (100 mJ/cm2, 4 hr recovery; green), using Phospho-RPA32 (Ser 8) (E5A2F) Rabbit mAb (solid lines) or concentration-matched Rabbit (DA1E) mAb IgG XP® Isotype Control #3900 (dashed lines). Anti-rabbit IgG (H+L), F(ab')2 Fragment (Alexa Fluor® 488 Conjugate) #4412 was used as a secondary antibody.
Background
RPA70 (HSSB, REPA1, RF-A, RP-A, p70) is a component of a heterotrimeric complex, composed of 70, 32/30 and 14 kDa subunits, collectively known as RPA. RPA is a single stranded DNA binding protein, whose DNA binding activity is believed to reside entirely in the 70 kDa subunit. The complex is required for almost all aspects of cellular DNA metabolism such as DNA replication (1-3), recombination, cell cycle and DNA damage checkpoints, and all major types of DNA repair including nucleotide excision, base excision, mismatch and double-strand break repairs (4-7). In response to genotoxic stress in eukaryotic cells, RPA has been shown to associate with the Rad9/Rad1/Hus1 (9-1-1) checkpoint complex (8). RPA is hyperphosphorylated upon DNA damage or replication stress by checkpoint kinases including ataxia telangiectasia mutated (ATM), ATM and Rad3-related (ATR), and DNA-dependent protein kinase (DNA-PK) (9-11). Phosphorylation of RPA32 occurs at serines 4, 8 and 33 (11). Hyperphosphorylation may alter RPA-DNA and RPA-protein interactions. In addition to the checkpoint partners, RPA interacts with a wide variety of protein partners, including proteins required for normal replication such as RCF, PCNA and Pol α, and also proteins involved in SV40 replication, such as DNA polymerase I and SV40 large T antigen (10,12).
Liu, V.F. and Weaver, D.T. (1993) Mol. Cell Biol. 13, 7222-31.
Wobbe, C.R. et al. (1987) Proc. Natl. Acad. Sci. USA 84, 1834-8.
Fairman, M.P. and Stillman, B. (1988) EMBO J. 7, 1211-8.
Wold, M.S. and Kelly, T. (1988) Proc. Natl. Acad. Sci. USA 85, 2523-7.
Zhou, B.B. and Elledge, S.J. (2000) Nature 408, 433-9.
Kastan, M.B. and Bartek, J. (2004) Nature 432, 316-23.
Sancar, A. et al. (2004) Annu. Rev. Biochem. 73, 39-85.
Guo, S. et al. (2006) J Biol Chem 281, 21607-16.
Wu, X. et al. (2005) Oncogene 24, 4728-35.
Binz, S.K. et al. DNA Repair (Amst) 3, 1015-24.
Nuss, J.E. et al. (2005) Biochemistry 44, 8428-37.
Yuzhakov, A. et al. (1999) EMBO J. 18, 6189-99.
Application References
Have you published research involving the use of our products? If so we'd love to hear about it. Please let us know!
---
This product is intended for research purposes only. The product is not intended to be used for therapeutic or diagnostic purposes in humans or animals.
Tween is a registered trademark of ICI Americas, Inc.
XP is a registered trademark of Cell Signaling Technology, Inc.
Alexa Fluor is a registered trademark of Life Technologies Corporation.
Cell Signaling Technology is a trademark of Cell Signaling Technology, Inc.
DyLight is a trademark of Thermo Fisher Scientific, Inc. and its subsidiaries.