Product Pathways - Growth Factors/Cytokines
GM-CSF (E8I1V) Rabbit mAb #56712

PhosphoSitePlus® protein, site, and accession data: GMCSF
| Item# | Description | List Price | Web Price | Qty | |
| --- | --- | --- | --- | --- | --- |
*On-line ordering is for Canadian customers only. Web pricing is applicable only to orders placed online at www.neb.ca
X
Companion Products
| Item# | Description | List Price | Web Price | Qty | |
| --- | --- | --- | --- | --- | --- |
| Application | Dilution | Species-Reactivity | Sensitivity | MW (kDa) | Isotype |
| --- | --- | --- | --- | --- | --- |
| W | | Human | Endogenous | 15, 18, 22 | Rabbit IgG |
Species cross-reactivity is determined by western blot.
Applications Key: W=Western Blotting
Specificity / Sensitivity
GM-CSF (E8I1V) Rabbit mAb recognizes endogenous levels of total GM-CSF protein.
Source / Purification
Monoclonal antibody is produced by immunizing animals with a synthetic peptide corresponding to residues surrounding Pro29 of human GM-CSF protein.
Western Blotting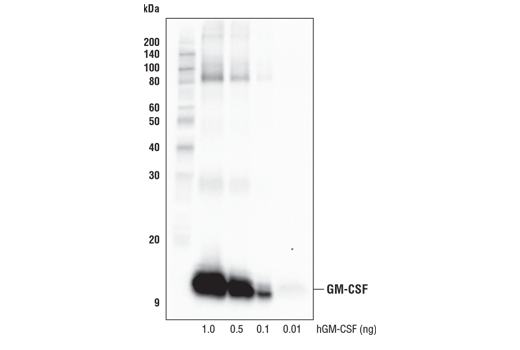 Western blot analysis of recombinant Human Granulocyte Macrophage Colony Stimulating Factor (hGM-CSF) #8922 using GM-CSF (E8I1V) Rabbit mAb.
Western Blotting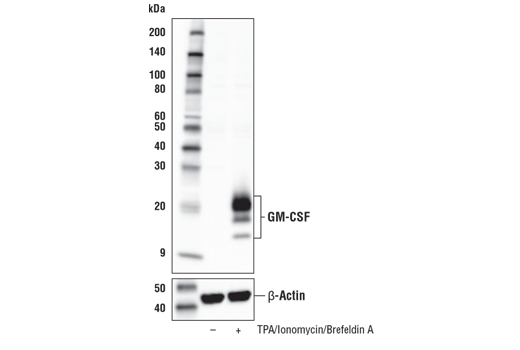 Western blot analysis of extracts from NK-92 cells, untreated (-) or treated (+) with TPA #4174 (80 nM, 5 hr), Ionomycin #9995 (3 μM, 5 hr), and Brefeldin A #9972 (300 ng/mL, last 4 hr of stimulation), using GM-CSF (E8I1V) Rabbit mAb (upper) or β-Actin (D6A8) Rabbit mAb #8457 (lower).
Background
GM-CSF is produced by activated T cells, NK cells and macrophages (1,5). Target cells include granulocyte, monocyte precursors and subsets of differentiated myeloid cells (1,2,3). Many target cells require GM-CSF for survival. GM-CSF induces proliferation, is involved in hematopoietic differentiation of dendritic cells, and is a key factor in differentiation pathways leading from stem cells. GM-CSF activates effector functions of myeloid cells, thereby linking adaptive and innate immunity and in turn may boost anti-tumor immunity (4). GM-CSF receptor is composed of GM-CSFRα and the common β chain, βC, which is also utilized by IL-3 and IL-5 (1). Binding of GM-CSF initiates the Jak2, Stat5, and PI3K/Akt pathways (1).
Guthridge, M.A. et al. (1998) Stem Cells 16, 301-13.
Sonoda, Y. et al. (1988) Proc Natl Acad Sci U S A 85, 4360-4.
Sonoda, Y. et al. (1988) Blood 72, 1381-6.
de la Cruz-Merino, L. et al. (2008) Oncologist 13, 1246-54.
Zhang, A.L. et al. (2007) Blood 110, 2484-93.
Application References
Have you published research involving the use of our products? If so we'd love to hear about it. Please let us know!
---
This product is intended for research purposes only. The product is not intended to be used for therapeutic or diagnostic purposes in humans or animals.
Tween is a registered trademark of ICI Americas, Inc.
Cell Signaling Technology is a trademark of Cell Signaling Technology, Inc.