Product Pathways - siRNA
SignalSilence® Control siRNA (Fluorescein Conjugate) #6201

PhosphoSitePlus® protein, site, and accession data:
| Item# | Description | List Price | Web Price | Qty | |
| --- | --- | --- | --- | --- | --- |
*On-line ordering is for Canadian customers only. Web pricing is applicable only to orders placed online at www.neb.ca
X
Companion Products
| Item# | Description | List Price | Web Price | Qty | |
| --- | --- | --- | --- | --- | --- |
| Applications | Reactivity |
| --- | --- |
| Transfection | |
Fluorescent Detection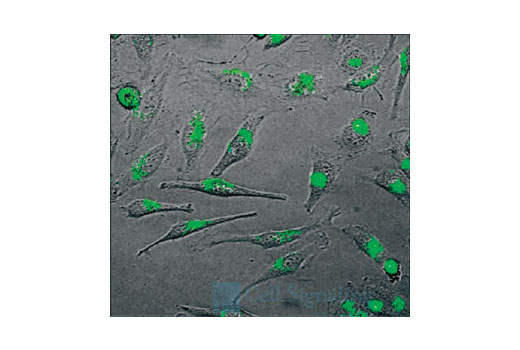 Fluorescent detection of SignalSilence® Control siRNA (Fluorescein Conjugate) in living HeLa cells 24 hours post-transfection, demonstrating nearly 100% transfection efficiency. TransIT-TKO® Transfection Reagent from Mirus was used (Mirus catalog #MIR2114).
Description
RNA interference is a method whereby gene expression can be selectively silenced through the delivery of double stranded RNA molecules into the cell. SignalSilence® Control siRNA (Fluorescein Conjugate) from Cell Signaling Technology (CST) is an siRNA sequence that will not lead to the specific degradation of any cellular message. It is intended to serve as a negative control for experiments using targeted siRNA transfection. In addition, this siRNA is fluorescein-conjugated to allow the researcher to assess transfection efficiency by fluorescence microscopy.
Directions For Use
CST recommends transfection with 100 nM SignalSilence® Control siRNA (Fluorescein Conjugate) 24 to 48 hours prior to cell lysis. For transfection procedure, follow protocol provided by transfection reagent manufacturer. Please feel free to contact CST with any questions on use.
Each vial contains the equivalent of 20 transfections, which corresponds to a final siRNA concentration of 100 nM per transfection in a 24-well plate with a total volume of 300 µl per well.
Application References
Dai, Y. et al. (2004) . Journal Of Biological Chemistry 279, 34227-34239. Applications: siRNA.
Have you published research involving the use of our products? If so we'd love to hear about it. Please let us know!
---
This product is intended for research purposes only. The product is not intended to be used for therapeutic or diagnostic purposes in humans or animals.
SignalSilence is a registered trademark of Cell Signaling Technology, Inc.
Cell Signaling Technology is a trademark of Cell Signaling Technology, Inc.
Limited Use Label License, RNA interference: This product is licensed under European Patent 1144623 and foreign equivalents from Ribopharma AG, Kulmbach, Germany and is provided only for use in non-commercial research specifically excluding use (a) in drug discovery or drug development, including target identification or target validation, by or on behalf of a commercial entity, (b) for contract research or commercial screening services, (c) for the production or manufacture of siRNA-related products for sale, or (d) for the generation of commercial databases for sale to Third Parties. Information about licenses for these and other commercial uses is available from Ribopharma AG, Fritz-Hornschuch-Str. 9, D-95326 Kulmbach, Germany.