Product Pathways - siRNA
SignalSilence® IKKβ siRNA I #6377

PhosphoSitePlus® protein, site, and accession data: IKKB
| Item# | Description | List Price | Web Price | Qty | |
| --- | --- | --- | --- | --- | --- |
*On-line ordering is for Canadian customers only. Web pricing is applicable only to orders placed online at www.neb.ca
X
Companion Products
| Item# | Description | List Price | Web Price | Qty | |
| --- | --- | --- | --- | --- | --- |
Product is assembled upon order. Please allow up to three business days for your product to be processed.
| Applications | Reactivity |
| --- | --- |
| Transfection | Human |
Western Blotting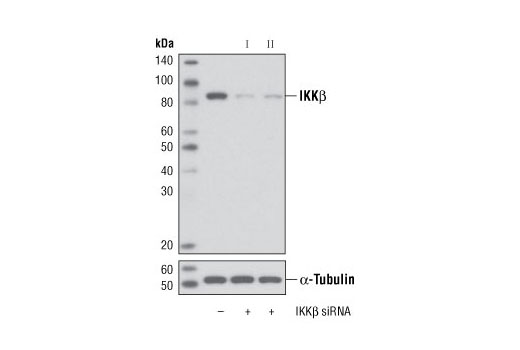 Western blot analysis of extracts from HeLa cells, transfected with 100 nM SignalSilence® Control siRNA (Unconjugated) #6568 (-), SignalSilence® IKKβ siRNA I (+) or SignalSilence® IKKβ siRNA II #6378 (+), using IKKβ (2C8) Rabbit mAb #2370 (upper) or α-Tubulin (11H10) Rabbit mAb #2125 (lower). The IKKβ (2C8) Rabbit mAb confirms silencing of IKKβ expression, while the α-Tubulin (11H10) Rabbit mAb is used as a loading control.
Description
Quality Control
Oligonucleotide synthesis is monitored base by base through trityl analysis to ensure appropriate coupling efficiency. The oligo is subsequently purified by affinity-solid phase extraction. The annealed RNA duplex is further analyzed by mass spectrometry to verify the exact composition of the duplex. Each lot is compared to the previous lot by mass spectrometry to ensure maximum lot-to-lot consistency.
Directions For Use
CST recommends transfection with 100 nM IKKβ siRNA I 48 to 72 hours prior to cell lysis. For transfection procedure, follow protocol provided by the transfection reagent manufacturer. Please feel free to contact CST with any questions on use.
Each vial contains the equivalent of 100 transfections, which corresponds to a final siRNA concentration of 100 nM per transfection in a 24-well plate with a total volume of 300 μl per well.
Background
The NF-κB/Rel transcription factors are present in the cytosol in an inactive state, complexed with the inhibitory IκB proteins (1-3). Most agents that activate NF-κB do so through a common pathway based on phosphorylation-induced, proteasome-mediated degradation of IκB (3-7). The key regulatory step in this pathway involves activation of a high molecular weight IκB kinase (IKK) complex whose catalysis is generally carried out by three tightly associated IKK subunits. IKKα and IKKβ serve as the catalytic subunits of the kinase and IKKγ serves as the regulatory subunit (8,9). Activation of IKK depends upon phosphorylation at Ser177 and Ser181 in the activation loop of IKKβ (Ser176 and Ser180 in IKKα), which causes conformational changes, resulting in kinase activation (10-13).
Baeuerle, P.A. and Baltimore, D. (1988) Science 242, 540-6.
Beg, A.A. and Baldwin, A.S. (1993) Genes Dev 7, 2064-70.
Finco, T.S. et al. (1994) Proc Natl Acad Sci USA 91, 11884-8.
Brown, K. et al. (1995) Science 267, 1485-8.
Brockman, J.A. et al. (1995) Mol Cell Biol 15, 2809-18.
Traenckner, E.B. et al. (1995) EMBO J 14, 2876-83.
Chen, Z.J. et al. (1996) Cell 84, 853-62.
Zandi, E. et al. (1997) Cell 91, 243-52.
Karin, M. (1999) Oncogene 18, 6867-74.
DiDonato, J.A. et al. (1997) Nature 388, 548-54.
Mercurio, F. et al. (1997) Science 278, 860-6.
Johnson, L.N. et al. (1996) Cell 85, 149-58.
Delhase, M. et al. (1999) Science 284, 309-13.
Application References
Have you published research involving the use of our products? If so we'd love to hear about it. Please let us know!
---
This product is intended for research purposes only. The product is not intended to be used for therapeutic or diagnostic purposes in humans or animals.
SignalSilence is a registered trademark of Cell Signaling Technology, Inc.
Cell Signaling Technology is a trademark of Cell Signaling Technology, Inc.