Product Pathways - Protein Stability
SignalSilence® USP14 siRNA I #7158

PhosphoSitePlus® protein, site, and accession data: USP14
| Item# | Description | List Price | Web Price | Qty | |
| --- | --- | --- | --- | --- | --- |
*On-line ordering is for Canadian customers only. Web pricing is applicable only to orders placed online at www.neb.ca
X
Companion Products
| Item# | Description | List Price | Web Price | Qty | |
| --- | --- | --- | --- | --- | --- |
Product is assembled upon order. Please allow up to three business days for your product to be processed.
| Applications | Reactivity |
| --- | --- |
| Transfection | Human |
Western Blotting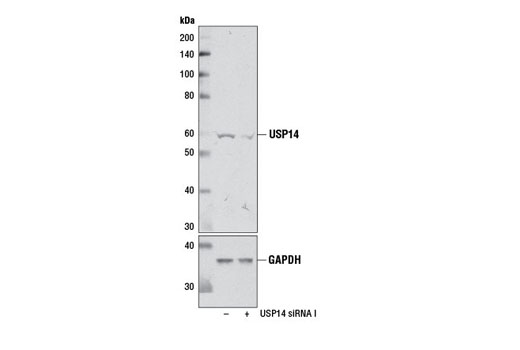 Western blot analysis of extracts from 293T cells, transfected with 100 nM SignalSilence® Control siRNA (Unconjugated) #6568 (-) or SignalSilence® USP14 siRNA I (+), using USP14 Antibody #8159 and GAPDH (14C10) Rabbit mAb #2118. The
USP14 Antibody confirms silencing of USP14 expression, while the GAPDH (14C10) Rabbit mAb is used as a loading control.
Description
SignalSilence® USP14 siRNA I from Cell Signaling Technology (CST) allows the researcher to specifically inhibit USP14 expression using RNA interference, a method whereby gene expression can be selectively silenced through the delivery of double stranded RNA molecules into the cell. All SignalSilence® siRNA products from CST are rigorously tested in-house and have been shown to reduce target protein expression by western analysis.
Quality Control
Oligonucleotide synthesis is monitored base by base through trityl analysis to ensure appropriate coupling efficiency. The oligo is subsequently purified by affinity-solid phase extraction. The annealed RNA duplex is further analyzed by mass spectrometry to verify the exact composition of the duplex. Each lot is compared to the previous lot by mass spectrometry to ensure maximum lot-to-lot consistency.
Directions For Use
CST recommends transfection with 100 nM SignalSilence® USP14 siRNA I 48 to 72 hours prior to cell lysis. For transfection procedure, follow protocol provided by the transfection reagent manufacturer. Please feel free to contact CST with any questions on use.
Each vial contains the equivalent of 100 transfections, which corresponds to a final siRNA concentration of 100 nM per transfection in a 24-well plate with a total volume of 300 μl per well.
Background
Ubiquitinating enzymes (UBEs) catalyze protein ubiquitination, a reversible process countered by deubiquitinating enzyme (DUB) action (1,2). Five DUB subfamilies are recognized, including the USP, UCH, OTU, MJD, and JAMM enzymes. In humans, there are three proteasomal DUBs: PSMD14 (POH1/RPN11), UCH37 (UCH-L5), and Ubiquitin-Specific Protease 14, which is also known as the 60 kDa subunit of tRNA-guanine transglycosylase (USP14/TGT60 kDa). USP14 is recruited to the proteasome through its reversible association with the PSMD2 (S2/hRPN1) subunit of the 19S regulatory particle. Whereas PSMD14 appears to promote substrate degradation (3,4), USP14 is thought to antagonize substrate degradation (5-8). While the underlying mechanism for the opposing roles of these two proteasomal DUBs is still uncertain, it is thought that USP14 removes ubiquitin from substrate upon docking of the substrate with the 26S proteasome. Furthermore, USP14 trims ubiquitin residues from the distal end of the polyubiquitin chain, thus decreasing the affinity of the chain for the ubiquitin receptors of the proteasome, and allowing for enhanced substrate stability (6,9,10). Studies have elucidated a physiologic role for USP14 in regulating synaptic activity in mammals (11). Research studies have shown that targeting this activity with small molecule inhibitors has potential benefits for the treatment of neurodegenerative diseases and cancer (5,12).
Nijman, S.M. et al. (2005) Cell 123, 773-86.
Nalepa, G. et al. (2006) Nat Rev Drug Discov 5, 596-613.
Verma, R. et al. (2002) Science 298, 611-5.
Yao, T. and Cohen, R.E. (2002) Nature 419, 403-7.
Lee, B.H. et al. (2010) Nature 467, 179-84.
Lam, Y.A. et al. (1997) Nature 385, 737-40.
Koulich, E. et al. (2008) Mol Biol Cell 19, 1072-82.
Jacobson, A.D. et al. (2009) J Biol Chem 284, 35485-94.
Hanna, J. et al. (2006) Cell 127, 99-111.
Thrower, J.S. et al. (2000) EMBO J 19, 94-102.
Wilson, S.M. et al. (2002) Nat Genet 32, 420-5.
D'Arcy, P. et al. (2011) Nat Med, Epub ahead of print.
Application References
Have you published research involving the use of our products? If so we'd love to hear about it. Please let us know!
---
This product is intended for research purposes only. The product is not intended to be used for therapeutic or diagnostic purposes in humans or animals.
SignalSilence is a registered trademark of Cell Signaling Technology, Inc.
Cell Signaling Technology is a trademark of Cell Signaling Technology, Inc.