Buffer Kits
Red Loading Buffer Pack #7723
| Item# | Description | List Price | Web Price | Qty | |
| --- | --- | --- | --- | --- | --- |
*On-line ordering is for Canadian customers only. Web pricing is applicable only to orders placed online at www.neb.ca
| Kit Includes | Quantity |
| --- | --- |
| 3X Red Loading Buffer | 8 ml |
| 30X Reducing Agent (1.25 M DTT) | 1 ml |
Storage: Store at Room Temperature and -20°C.3X Red Loading Buffer: 187.5 mM Tris-HCl (pH 6.8 at 25°C), 6% (w/v) SDS, 30% glycerol and 0.03% (w/v) phenol red. (Store at room temperature.)30X Reducing Agent: 1.25 M dithiothreitol (DTT) (Store at -20°C.)
Description
The Red Loading Buffer Pack is used to lyse cells for western blotting analysis.
Directions for Use
1. Prepare fresh 3X Reducing SDS Loading Buffer by adding 1/10 volume 30X DTT Reducing Agent to 1 volume of 3X SDS Loading Buffer.
2. Dilute 3X SDS Loading Buffer to a 1X solution using ddH2O. This product supplies enough 3X material to make 24ml of 1X solution.
3. Aspirate media from cultures; wash cells with 1X PBS; aspirate.
4. Lyse cells by adding 1X SDS Loading Buffer (100 µl per well of 6-well plate or 500 µl per plate of 10 cm2 plate). Immediately scrape the cells off the plate and transfer the extract to a microcentrifuge tube. Keep on ice.
5. Sonicate for 10-15 seconds to shear DNA and reduce sample viscosity.
6. Heat a 20 µl sample to 95-100ºC for 5 minutes; cool on ice.
7. Microcentrifuge for 2-5 minutes.
8. Load 20 µl onto SDS-PAGE gel (10 cm x 10 cm).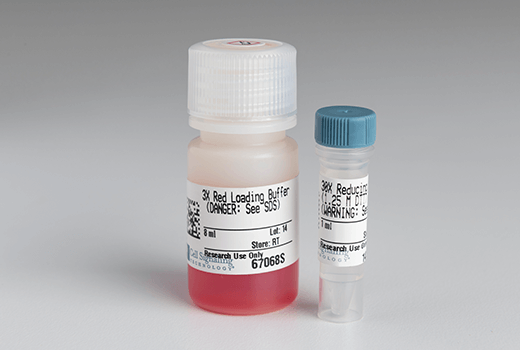 Solutions and Reagents
Quantity 8 ml 3X Red Loading Buffer and 1 ml 30X Reducing Agent
3X Red Loading Buffer Pack: 187.5 mM Tris-HCl (pH 6.8 at 25ºC), 6% (w/v) SDS, 30% glycerol and 0.03% (w/v) phenol red. (Store at room temperature.)
30X Reducing Agent: 1.25 M dithiothreitol (DTT) (Store at -20ºC.)
Application References
Have you published research involving the use of our products? If so we'd love to hear about it. Please let us know!
---
This product is intended for research purposes only. The product is not intended to be used for therapeutic or diagnostic purposes in humans or animals.
Cell Signaling Technology is a trademark of Cell Signaling Technology, Inc.