Product Pathways - Chromatin Regulation / Epigenetics
YTHDC1 (E2P2I) Rabbit mAb #81504

PhosphoSitePlus® protein, site, and accession data: YT521
| Item# | Description | List Price | Web Price | Qty | |
| --- | --- | --- | --- | --- | --- |
*On-line ordering is for Canadian customers only. Web pricing is applicable only to orders placed online at www.neb.ca
X
Companion Products
| Item# | Description | List Price | Web Price | Qty | |
| --- | --- | --- | --- | --- | --- |
Application
Dilution
Species-Reactivity
Sensitivity
MW (kDa)
Isotype
W

Human

,

Mouse

,

Rat

,

Monkey

Endogenous
110
Rabbit IgG
IP
Species cross-reactivity is determined by western blot.
Applications Key: W=Western Blotting, IP=Immunoprecipitation
Protocols
Specificity / Sensitivity
YTHDC1 (E2P2I) Rabbit mAb recognizes endogenous levels of total YTHDC1 protein.
Source / Purification
Monoclonal antibody is produced by immunizing animals with a synthetic peptide corresponding to residues surrounding Gly11 of human YTHDC1 protein.
Western Blotting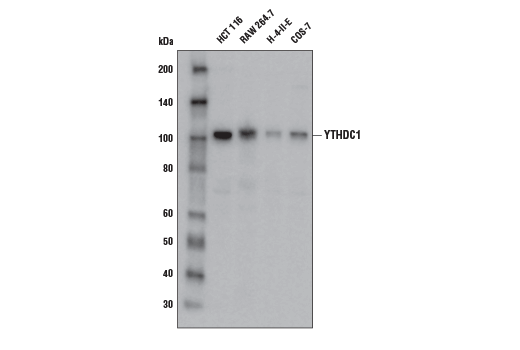 Western blot analysis of extracts from various cell lines using YTHDC1 (E2P2I) Rabbit mAb.
Background
YTH domain-containing protein 1 (YTHDC1) and YTH domain-containing protein 2 (YTHDC2) both belong to a family of proteins that bind to RNA. YTHDC1 and YTHDC2 both recognize and bind to N6-methyladenosine(m6A)-containing RNAs; binding is mediated through the YTH domains (1-3). m6A is a modification that is present at internal sites of mRNAs and some non-coding RNAs and plays a role in regulating mRNA splicing, processing, and stability. YTHDC1, also known as splicing factor YT521, regulates alternative splicing by functioning as a key regulator of exon-inclusion or exon-skipping. YTHDC1 promotes exon-inclusion by recruiting pre-mRNA splicing factor SRSF3 to regions containing m6A, while repressing exon-skipping by blocking SRSF10 binding to these same regions (2). Increased expression of YTHDC1 promotes malignant endometrial carcinoma (EC) through alternative splicing of vascular endothelial growth factor A (VEGF-A), resulting in an increase in VEGF-165 isoform and increased EC cell invasion (4). YTHDC2 functions to enhance the translation efficiency of target mRNAs and may play a role in spermatogenesis (5).
Xu, C. et al. (2015) J Biol Chem 290, 24902-13.
Xiao, W. et al. (2016) Mol Cell 61, 507-19.
Xu, C. et al. (2014) Nat Chem Biol 10, 927-9.
Zhang, B. et al. (2015) Tumor Biol 37, 15543–9.
Hsu, P.J. et al. (2017) Cell Res 27, 1115-27.
Application References
Have you published research involving the use of our products? If so we'd love to hear about it. Please let us know!
---
This product is intended for research purposes only. The product is not intended to be used for therapeutic or diagnostic purposes in humans or animals.
Tween is a registered trademark of ICI Americas, Inc.
XP is a registered trademark of Cell Signaling Technology, Inc.
Cell Signaling Technology is a trademark of Cell Signaling Technology, Inc.