Product Pathways - Development
TAZ (E8E9G) Rabbit mAb #83669

PhosphoSitePlus® protein, site, and accession data: TAZ
| Item# | Description | List Price | Web Price | Qty | |
| --- | --- | --- | --- | --- | --- |
*On-line ordering is for Canadian customers only. Web pricing is applicable only to orders placed online at www.neb.ca
X
Companion Products
| Item# | Description | List Price | Web Price | Qty | |
| --- | --- | --- | --- | --- | --- |
Application
Dilution
Species-Reactivity
Sensitivity
MW (kDa)
Isotype
W

Human

,

Mouse

,

Rat

,

Monkey

Endogenous
55
Rabbit IgG
IP
IF-IC
Species cross-reactivity is determined by western blot.
Applications Key: W=Western Blotting, IP=Immunoprecipitation, IF-IC=Immunofluorescence (Immunocytochemistry)
Protocols
Specificity / Sensitivity
TAZ (E8E9G) Rabbit mAb recognizes endogenous levels of total TAZ protein. This antibody does not cross-react with YAP.
Source / Purification
Monoclonal antibody is produced by immunizing animals with recombinant protein corresponding to human TAZ protein. The epitope has been mapped to a region surrounding Pro49.
Western Blotting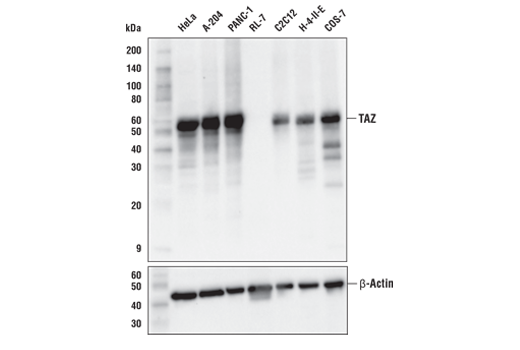 Western blot analysis of extracts from various cell lines using TAZ (E8E9G) Rabbit mAb (upper) and β-Actin (D6A8) Rabbit mAb #8457 (lower). Expression levels of TAZ among cell lines are consistent with expectations based on publicly available bioinformatic databases.
IP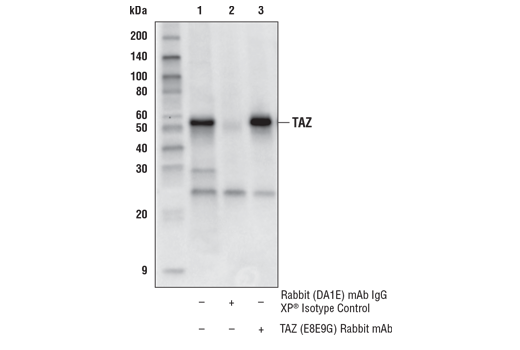 Immunoprecipitation of TAZ protein from HeLa cell extracts. Lane 1 is 10% input, lane 2 is Rabbit (DA1E) mAb IgG XP® Isotype Control #3900, and lane 3 is TAZ (E8E9G) Rabbit mAb. Western blot analysis was performed using TAZ (D3I6D) Rabbit mAb #70148. Mouse anti-rabbit IgG (Conformation Specific) (L27A9) mAb (HRP Conjugate) #5127 was used for detection to avoid cross-reactivity with IgG.
IF-IC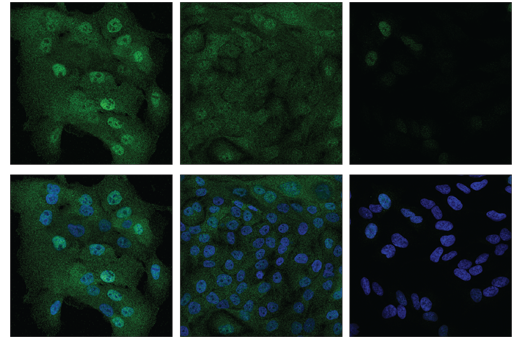 Confocal immunofluorescent analysis of MCF 10A cells (high-expressing) at low (left) and high-confluence (middle) versus SH-SY5Y cells (right, low-expressing) using TAZ (E8E9G) Rabbit mAb (green). Nuclei are labeled with DAPI #4083 (blue). Note that decreased nuclear localization of TAZ protein is seen in high-confluence MCF 10A cells.
Background
TAZ is a transcriptional co-activator with a PDZ-binding motif that is regulated by its interaction with 14-3-3 proteins (1). TAZ shares homology with the WW domain of Yes-associated protein (YAP) (1). TAZ is proposed to modulate the switch between proliferation and differentiation of mesenchymal stem cells (MSC) via interaction with transcription factors Runx2 and PPARγ. This process is critical to normal tissue development and the prevention of tumor formation. Due to its role in determination of MSC fate, TAZ may have clinical relevance to several human diseases caused by an imbalance of MSC differentiation (2,3). TAZ is negatively regulated via phosphorylation by LATS1/2, core kinases in the Hippo signaling pathway that controls stem cell development, tissue growth and tumor development (4).
Kanai, F. et al. (2000) EMBO J 19, 6778-91.
Hong, J.H. et al. (2005) Science 309, 1074-8.
Hong, J.H. and Yaffe, M.B. (2006) Cell Cycle 5, 176-9.
Lei, Q.Y. et al. (2008) Mol Cell Biol 28, 2426-36.
Application References
Have you published research involving the use of our products? If so we'd love to hear about it. Please let us know!
---
This product is intended for research purposes only. The product is not intended to be used for therapeutic or diagnostic purposes in humans or animals.
Tween is a registered trademark of ICI Americas, Inc.
Cell Signaling Technology is a trademark of Cell Signaling Technology, Inc.