Product Pathways - Lymphocyte Signaling
PD-1 (D7D5W) XP® Rabbit mAb (Mouse Specific) (Alexa Fluor® 594 Conjugate) #83707

PhosphoSitePlus® protein, site, and accession data: PD-1
| Item# | Description | List Price | Web Price | Qty | |
| --- | --- | --- | --- | --- | --- |
*On-line ordering is for Canadian customers only. Web pricing is applicable only to orders placed online at www.neb.ca
X
Companion Products
| Item# | Description | List Price | Web Price | Qty | |
| --- | --- | --- | --- | --- | --- |
Application
Dilution
Species-Reactivity
Sensitivity
Isotype
IF-F

Mouse

Endogenous
Rabbit IgG
IF-IC
Applications Key: IF-F=Immunofluorescence (Frozen), IF-IC=Immunofluorescence (Immunocytochemistry)
Specificity / Sensitivity
PD-1 (D7D5W) XP® Rabbit mAb (Mouse Specific) (Alexa Fluor® 594 Conjugate) recognizes endogenous levels of total PD-1 protein.
Source / Purification
Monoclonal antibody is produced by immunizing animals with a synthetic peptide corresponding to residues surrounding Ala242 of mouse PD-1 protein.
IF-F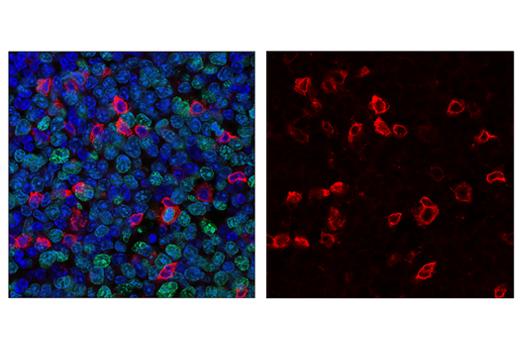 Confocal immunofluorescent analysis of lymph node from a syngeneic CT26 tumor-bearing mouse. Sections were labeled with PD-1 (D7D5W) XP® Rabbit mAb (Mouse Specific) (Alexa Fluor® 594) (red) and Ki-67 (D3B5) Rabbit mAb (Alexa Fluor® 488 Conjugate) #11882 (green) before mounting with Prolong® Gold Antifade Reagent with DAPI #8961 (blue).
Description
This Cell Signaling Technology antibody is conjugated to Alexa Fluor® 594 fluorescent dye and tested in-house for direct immunofluorescent analysis in mouse cells. This antibody is expected to exhibit the same species cross-reactivity as the unconjugated PD-1 (D7D5W) XP® Rabbit mAb (Mouse Specific) #84651.
Background
The programmed cell death 1 protein (PD-1, PDCD1, CD279) is a member of the CD28 family of immunoreceptors that regulate T cell activation and immune responses (1-3). The PD-1 protein contains an extracellular Ig V domain, a transmembrane domain, and a cytoplasmic tail that includes an immunoreceptor tyrosine-based inhibitory motif (ITIM) and an immunoreceptor tyrosine-based switch motif (ITSM). PD-1 is activated by the cell surface ligands PD-L1 and PD-L2 (4). Upon activation, PD-1 ITIM and ITSM phosphorylation leads to the recruitment of the protein tyrosine phosphatases SHP-1 and SHP-2, which suppress TCR signaling (5-7). In addition to activated T-cells, PD-1 is expressed in activated B-cells and monocytes, although its function in these cell types has not been fully characterized (8). The PD-1 pathway plays an important role in immune tolerance (3); however, research studies show that cancer cells often adopt this pathway to escape immune surveillance (9). Consequently, blockade of PD-1 and its ligands is proving to be a sound strategy for neoplastic intervention (10).
Ishida, Y. et al. (1992) EMBO J 11, 3887-95.
Shinohara, T. et al. (1994) Genomics 23, 704-6.
Nishimura, H. et al. (1999) Immunity 11, 141-51.
Freeman, G.J. et al. (2000) J Exp Med 192, 1027-34.
Yokosuka, T. et al. (2012) J Exp Med 209, 1201-17.
Sheppard, K.A. et al. (2004) FEBS Lett 574, 37-41.
Chemnitz, J.M. et al. (2004) J Immunol 173, 945-54.
Thibult, M.L. et al. (2013) Int Immunol 25, 129-37.
Dong, H. et al. (2002) Nat Med 8, 793-800.
Topalian, S.L. et al. (2012) Curr Opin Immunol 24, 207-12.
Application References
Have you published research involving the use of our products? If so we'd love to hear about it. Please let us know!
---
This product is intended for research purposes only. The product is not intended to be used for therapeutic or diagnostic purposes in humans or animals.
DRAQ5 is a registered trademark of Biostatus Limited.
XP is a registered trademark of Cell Signaling Technology, Inc.
Cell Signaling Technology is a trademark of Cell Signaling Technology, Inc.
DyLight is a trademark of Thermo Fisher Scientific, Inc. and its subsidiaries.
This product is provided under an intellectual property license from Life Technologies Corporation. The transfer of this product is conditioned on the buyer using the purchased product solely in research conducted by the buyer, excluding contract research or any fee for service research, and the buyer must not (1) use this product or its components for (a) diagnostic, therapeutic or prophylactic purposes; (b) testing, analysis or screening services, or information in return for compensation on a per-test basis; or (c) manufacturing or quality assurance or quality control, and/or (2) sell or transfer this product or its components for resale, whether or not resold for use in research. For information on purchasing a license to this product for purposes other than as described above, contact Life Technologies Corporation, 5791 Van Allen Way, Carlsbad, CA 92008 USA or outlicensing@lifetech.com.