Product Pathways - Lymphocyte Signaling
LAIR-1 Antibody #87923

PhosphoSitePlus® protein, site, and accession data: LAIR-1
| Item# | Description | List Price | Web Price | Qty | |
| --- | --- | --- | --- | --- | --- |
*On-line ordering is for Canadian customers only. Web pricing is applicable only to orders placed online at www.neb.ca
X
Companion Products
| Item# | Description | List Price | Web Price | Qty | |
| --- | --- | --- | --- | --- | --- |
Application
Dilution
Species-Reactivity
Sensitivity
MW (kDa)
Source
W

Human

Endogenous
40-60
Rabbit
IP
Species cross-reactivity is determined by western blot.
Applications Key: W=Western Blotting, IP=Immunoprecipitation
Protocols
Specificity / Sensitivity
LAIR-1 Antibody recognizes endogenous levels of total LAIR-1 protein.
Source / Purification
Polyclonal antibodies are produced by immunizing animals with a synthetic peptide corresponding to residues near the carboxyterminus of human LAIR-1 protein. Antibodies are purified by protein A and peptide affinity chromatography.
Western Blotting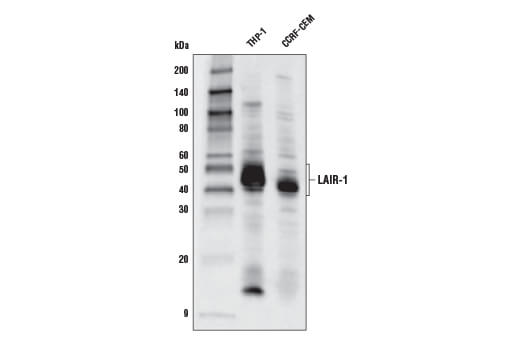 Western blot analysis of extracts from THP-1 and CCRF-CEM cells using LAIR-1 Antibody.
Background
LAIR-1 is an inhibitory receptor that belongs to the Immunoglobulin superfamily. It has one extracellular Ig-like domain and an intracellular C-terminus with two ITIM (immunoreceptor tyrosine-based inhibitory motif) domains. It is found on peripheral mononuclear cells, including NK, T, and B cells, and is thought to play a negative regulatory role on the cytolytic function of these cells through signaling through collagen ligation (1). LAIR1 has been noted to be upregulated in renal cell carcinoma (2), and may play a role in expansion of Th17 cell populations in collagen-rich environments, such as in graft rejection tissue (3).
Meyaard, L. (2008) J Leukoc Biol 83, 799-803.
Jingushi, K. et al. (2019) Oncol Rep 41, 1293-303.
Agashe, V.V. et al. (2018) J Immunol 201, 772-81.
Application References
Have you published research involving the use of our products? If so we'd love to hear about it. Please let us know!
---
This product is intended for research purposes only. The product is not intended to be used for therapeutic or diagnostic purposes in humans or animals.
Tween is a registered trademark of ICI Americas, Inc.
Cell Signaling Technology is a trademark of Cell Signaling Technology, Inc.