Product Pathways - Protein Translation
Phospho-4E-BP1 (Thr37/46) Antibody #9459

PhosphoSitePlus® protein, site, and accession data: 4E-BP1
| Item# | Description | List Price | Web Price | Qty | |
| --- | --- | --- | --- | --- | --- |
*On-line ordering is for Canadian customers only. Web pricing is applicable only to orders placed online at www.neb.ca
X
Companion Products
| Item# | Description | List Price | Web Price | Qty | |
| --- | --- | --- | --- | --- | --- |
Application
Dilution
Species-Reactivity
Sensitivity
MW (kDa)
Source
W

Human

,

Mouse

,

Rat

,

Monkey

Endogenous
15 to 20
Rabbit
Species cross-reactivity is determined by western blot.
Applications Key: W=Western Blotting
Specificity / Sensitivity
Phospho-4E-BP1 (Thr37/46) Antibody detects endogenous levels of 4E-BP1 only when phosphorylated at Thr37 and/or Thr46. This antibody may cross-react with 4E-BP2 and 4E-BP3 when phosphorylated at equivalent sites.
Source / Purification
Polyclonal antibodies are produced by immunizing animals with a synthetic phosphopeptide corresponding to residues surrounding Thr37 of mouse 4E-BP1 and Thr46 of mouse 4E-BP1. Antibodies are purified by protein A and peptide affinity chromatography.
Western Blotting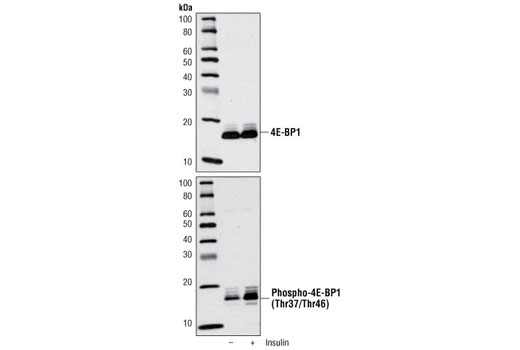 Western blot analysis of extracts from 293T cells using 4E-BP1 Antibody #9452 (upper) and Phospho-4E-BP1 (Thr37/46) Antibody (lower). The cells were starved for 24 hours in serum-free medium and underwent a 1 hour amino acid deprivation. Amino acids were replenished for 1 hour. Cells were then either untreated (-) or treated with 100 nM insulin (+) for 30 minutes.
Background
Translation repressor protein 4E-BP1 (also known as PHAS-1) inhibits cap-dependent translation by binding to the translation initiation factor eIF4E. Hyperphosphorylation of 4E-BP1 disrupts this interaction and results in activation of cap-dependent translation (1). Both the PI3 kinase/Akt pathway and FRAP/mTOR kinase regulate 4E-BP1 activity (2,3). Multiple 4E-BP1 residues are phosphorylated in vivo (4). While phosphorylation by FRAP/mTOR at Thr37 and Thr46 does not prevent the binding of 4E-BP1 to eIF4E, it is thought to prime 4E-BP1 for subsequent phosphorylation at Ser65 and Thr70 (5).
Pause, A. et al. (1994) Nature 371, 762-7.
Brunn, G.J. et al. (1997) Science 277, 99-101.
Gingras, A.C. et al. (1998) Genes Dev 12, 502-13.
Fadden, P. et al. (1997) J Biol Chem 272, 10240-7.
Gingras, A.C. et al. (1999) Genes Dev 13, 1422-37.
Application References
Jiang, Y. P. et al. (2001) J. Biol. Chem. 276, 10943-10951. Applications: Western Blotting.
Kwiatkowski, D. J. et al. (2002) Hum. Mol. Genet. 11, 525-534. Applications: Western Blotting.
Yu, K. et al. (2001) Endocr. Relat. Cancer 8, 249-258. Applications: Western Blotting.
Ma, D. et al. (2009) J Cell Physiol 219, 31-44. Applications: Western Blotting.
Ohne, Y. et al. (2008) J Biol Chem 283, 31861-70. Applications: Western Blotting.
Have you published research involving the use of our products? If so we'd love to hear about it. Please let us know!
---
This product is intended for research purposes only. The product is not intended to be used for therapeutic or diagnostic purposes in humans or animals.
Cell Signaling Technology is a trademark of Cell Signaling Technology, Inc.