Product Pathways - Companion Products
Cell Lysis Buffer (10X) #9803
| Item# | Description | List Price | Web Price | Qty | |
| --- | --- | --- | --- | --- | --- |
*On-line ordering is for Canadian customers only. Web pricing is applicable only to orders placed online at www.neb.ca
X
Companion Products
| Item# | Description | List Price | Web Price | Qty | |
| --- | --- | --- | --- | --- | --- |
Description
Cell Lysis Buffer is used to lyse cells under nondenaturing conditions.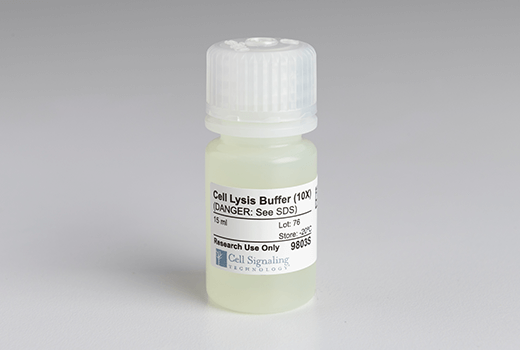 Directions for Use
If buffer will be continually used, it is recommended that the 10x buffer be kept at 4°C for 1-2 weeks. For longer periods of time, buffer should be stored at -20°C. Aliquotting of 10x buffer is recommended if many small experiments are to be performed.
Thaw 10x buffer at 24-30°C, mixing end-over-end.
Dilute 10x buffer in Milli-Q water or water of equivalent quality.
Chill 1x buffer on ice and add PMSF just prior to use.
Lysis:
For lysis of adherent cells, we recommend the following: (all reagents and lysates must be kept cold).
Treat cells as desired.
Wash plate with PBS to remove residual media.
Add 400 ul of 1x lysis buffer/10 cm dish.
Incubate plate on ice for 5 minutes.
Scrape cells.
Sonicate briefly.
Centrifuge extract for 10 minutes at 14,000 x g in a cold microfuge.
Remove supernatant for use.
Additional notes:
For non-adherent cells, add 400 ul of buffer per 107 cells once they have been washed in 1X PBS and pelleted.
The CST 2X 9803 Cell Lysis Buffer can be used for lysis of tissue samples, although a homogenization step is recommended after adding lysis buffer. Extract the tissue at a ratio of 100 mg of tissue to 1 ml of buffer. Sonication of the tissue lysate is also required.
Additional protease inhibitors can be added to the lysis buffer without any difficulties.
Solutions and Reagents
1X Cell Lysis Buffer:
20 mM Tris-HCl (pH 7.5)
150 mM NaCl
1 mM Na2EDTA
1 mM EGTA
1% Triton
2.5 mM sodium pyrophosphate
1 mM beta-glycerophosphate
1 mM Na3VO4
1 µg/ml leupeptin
Note: CST recommends adding 1 mM PMSF immediately before use.
Application References
Kong, B. et al. (2010) Oncogene 29, 5146-58. Applications: Western Blotting.
Roca, H. et al. (2009) Neoplasia 11, 1309-17. Applications: Western Blotting.
Have you published research involving the use of our products? If so we'd love to hear about it. Please let us know!
---
This product is intended for research purposes only. The product is not intended to be used for therapeutic or diagnostic purposes in humans or animals.
Cell Signaling Technology is a trademark of Cell Signaling Technology, Inc.