Product Pathways - Protein Stability
USP8 (D18F6) Rabbit mAb #11832

PhosphoSitePlus® protein, site, and accession data: USP8
| Item# | Description | List Price | Web Price | Qty | |
| --- | --- | --- | --- | --- | --- |
*On-line ordering is for Canadian customers only. Web pricing is applicable only to orders placed online at www.neb.ca
X
Companion Products
| Item# | Description | List Price | Web Price | Qty | |
| --- | --- | --- | --- | --- | --- |
Application
Dilution
Species-Reactivity
Sensitivity
MW (kDa)
Isotype
W

Human

,

Monkey

Endogenous
140
Rabbit IgG
IP
Species cross-reactivity is determined by western blot.
Applications Key: W=Western Blotting, IP=Immunoprecipitation
Protocols
Specificity / Sensitivity
USP8 (D18F6) Rabbit mAb recognizes endogenous levels of total USP8 protein.
Source / Purification
Monoclonal antibody is produced by immunizing animals with a synthetic peptide corresponding to residues surrounding Leu614 of human USP8 protein.
Western Blotting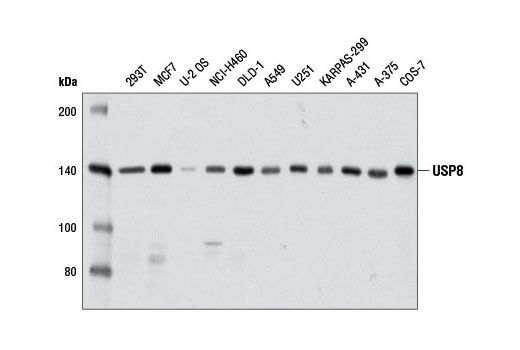 Western blot analysis of extracts from various cell lines using USP8 (D18F6) Rabbit mAb.
Background
Ubiquitinating enzymes (UBEs) catalyze protein ubiquitination, a reversible process countered by deubiquitinating enzyme (DUB) action (1,2). Five DUB subfamilies are recognized, including the USP, UCH, OTU, MJD, and JAMM enzymes. The deubiquitinating enzyme ubiquitin-specific protease 8 (USP8/UBPy) is a cysteine protease belonging to the USP/UBP subfamily. Research studies have shown that USP8 is an essential growth-regulated enzyme indespensible for cell proliferation and survival (3,4). Indeed, conditional knock-out of murine USP8 was shown to promote a dramatic loss in expression of receptor tyrosine kinases, including EGFR, ErbB3, and c-Met (4). In agreement with these findings, USP8 inactivation leads to enhanced ubiquitination of ligand-activated EGFR (5,6). Furthermore, phosphorylation of USP8 at Ser680 results in its binding of 14-3-3, catalytic inactivation, and reduced EGFR deubiquitination (7). It appears as though USP8, in conjunction with components of the ESCRT-0 complex, plays an integral role in the early endosomal sorting machinery that functions to protect EGFR from lysosomal degradation (8,9).
Nijman, S.M. et al. (2005) Cell 123, 773-86.
Nalepa, G. et al. (2006) Nat Rev Drug Discov 5, 596-613.
Naviglio, S. et al. (1998) EMBO J 17, 3241-50.
Niendorf, S. et al. (2007) Mol Cell Biol 27, 5029-39.
Alwan, H.A. and van Leeuwen, J.E. (2007) J Biol Chem 282, 1658-69.
Mizuno, E. et al. (2005) Mol Biol Cell 16, 5163-74.
Mizuno, E. et al. (2007) Exp Cell Res 313, 3624-34.
Row, P.E. et al. (2006) J Biol Chem 281, 12618-24.
Berlin, I. et al. (2010) J Biol Chem 285, 34909-21.
Application References
Have you published research involving the use of our products? If so we'd love to hear about it. Please let us know!
---
This product is intended for research purposes only. The product is not intended to be used for therapeutic or diagnostic purposes in humans or animals.
Cell Signaling Technology is a trademark of Cell Signaling Technology, Inc.