Product Pathways - Protein Stability
RBX1 (D3J5I) Rabbit mAb #11922

PhosphoSitePlus® protein, site, and accession data: RBX1
| Item# | Description | List Price | Web Price | Qty | |
| --- | --- | --- | --- | --- | --- |
*On-line ordering is for Canadian customers only. Web pricing is applicable only to orders placed online at www.neb.ca
X
Companion Products
| Item# | Description | List Price | Web Price | Qty | |
| --- | --- | --- | --- | --- | --- |
Application
Dilution
Species-Reactivity
Sensitivity
MW (kDa)
Isotype
W

Human

,

Mouse

,

Rat

,

Monkey

Endogenous
13
Rabbit IgG
IP
IHC-P
Species cross-reactivity is determined by western blot.
Applications Key: W=Western Blotting, IP=Immunoprecipitation, IHC-P=Immunohistochemistry (Paraffin)
Protocols
Specificity / Sensitivity
RBX1 (D3J5I) Rabbit mAb recognizes endogenous levels of total RBX1 protein.
Source / Purification
Monoclonal antibody is produced by immunizing animals with a synthetic peptide corresponding to residues near the carboxy terminus of human RBX1 protein.
Western Blotting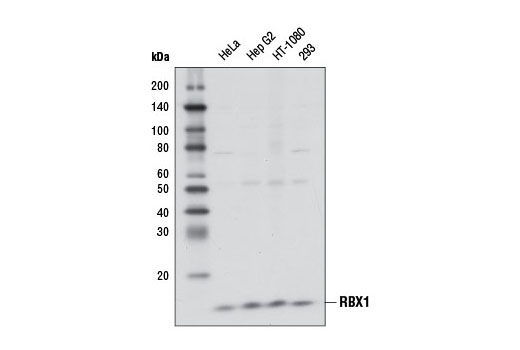 Western blot analysis of extracts from various cell lines using RBX1 (D3J5I) Rabbit mAb.
IHC-P (paraffin)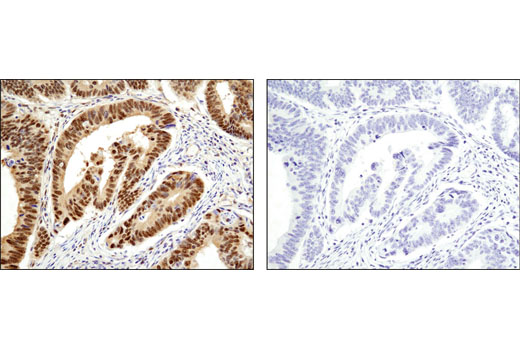 Immunohistochemical analysis of paraffin-embedded human colon carcinoma using RBX1 (D3J5I) Rabbit mAb in the presence of control peptide (left) or antigen-specific peptide (right).
IHC-P (paraffin)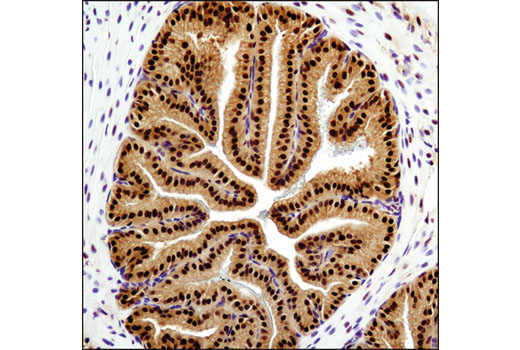 Immunohistochemical analysis of paraffin-embedded mouse prostate using RBX1 (D3J5I) Rabbit mAb.
Background
RING-box protein 1 (RBX1 or ROC1) is an essential component of two distinct but structurally related E3 ubiquitin ligase complexes, the SCF complex and the CBC (VHL) complex (1). RBX1 mediates the neddylation of CUL1, which activates SCF E3 ligase by facilitating the ubiquitin transfer from E2 to substrates (2-4). The RING finger domain of RBX1 is required for ubiquitin ligation (5). Two evolutionarily conserved mammalian RBX family members, RBX1/ROC1 and RBX2/ROC2/SAG, have been identified (5). RBX1 is constitutively expressed and binds to CUL2/VHL, while stress-inducible RBX2 binds to CUL5/SOCS (6).
Zheng, N. et al. (2002) Nature 416, 703-9.
Kamura, T. et al. (1999) Genes Dev 13, 2928-33.
Morimoto, M. et al. (2003) Biochem Biophys Res Commun 301, 392-8.
Pan, Z.Q. et al. (2004) Oncogene 23, 1985-97.
Sun, Y. et al. (2001) Antioxid Redox Signal 3, 635-50.
Gu, Q. et al. (2007) Cancer Res 67, 3616-25.
Application References
Have you published research involving the use of our products? If so we'd love to hear about it. Please let us know!
---
This product is intended for research purposes only. The product is not intended to be used for therapeutic or diagnostic purposes in humans or animals.
Cell Signaling Technology is a trademark of Cell Signaling Technology, Inc.