Product Pathways - Protein Folding
OS-9 (D8P4G) Rabbit mAb #12497

PhosphoSitePlus® protein, site, and accession data: OS9
| Item# | Description | List Price | Web Price | Qty | |
| --- | --- | --- | --- | --- | --- |
*On-line ordering is for Canadian customers only. Web pricing is applicable only to orders placed online at www.neb.ca
X
Companion Products
| Item# | Description | List Price | Web Price | Qty | |
| --- | --- | --- | --- | --- | --- |
Application
Dilution
Species-Reactivity
Sensitivity
MW (kDa)
Isotype
W

Human

,

Mouse

,

Rat

,

Monkey

Endogenous
83,97
Rabbit IgG
IP
Species cross-reactivity is determined by western blot.
Applications Key: W=Western Blotting, IP=Immunoprecipitation
Homology
Species predicted to react based on 100% sequence homology: Bovine, Horse.
Protocols
Specificity / Sensitivity
OS-9 (D8P4G) Rabbit mAb recognizes endogenous levels of total OS-9 protein. This antibody reacts with OS-9 isoform 1 (OS-9-1) and OS-9 isoform 2 (OS-9-2).
Source / Purification
Monoclonal antibody is produced by immunizing animals with a synthetic peptide corresponding to residues near the amino terminus of human OS-9 protein.
Western Blotting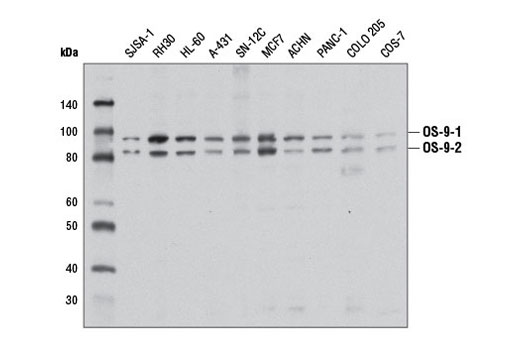 Western blot analysis of extracts from various cell lines using OS-9 (D8P4G) Rabbit mAb.
Western Blotting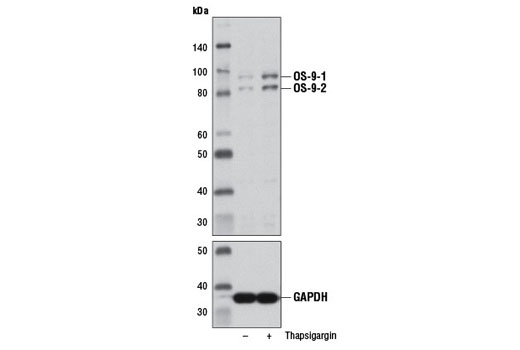 Western blot analysis of extracts from HeLa cells, untreated (-) or thapsigargin-treated (2 nM, 16 hr; +), using OS-9 (D8P4G) Rabbit mAb (upper) or GAPDH (D16H11) XP® Rabbit mAb #5174 (lower).
IP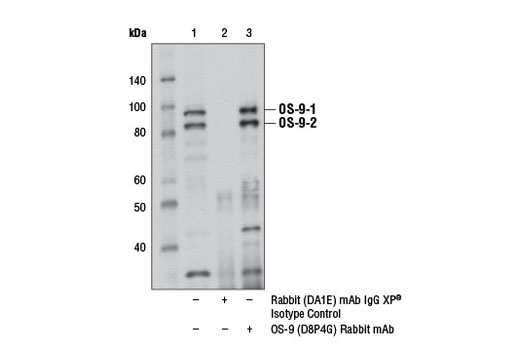 Immunoprecipitation of OS-9 from SJSA-1 cell extracts, using Rabbit (DA1E) mAb IgG XP® Isotype Control #3900 (lane 2) or OS-9 (D8P4G) Rabbit mAb (lane 3). Lane 1 is 10% input. Western blot analysis was performed with OS-9 (D8P4G) Rabbit mAb.
Background
Amplified in Osteosarcoma 9 (OS-9) was identified as a gene that is frequently amplified in human sarcomas (1). OS-9 is an N-glycosylated ER resident protein that harbors a mannose-6-phosphate receptor homology (MRH) domain and plays a critical role in mammalian ER quality control, in part, by functioning as a lectin. There are two major isoforms of OS-9 (OS-9-1, OS-9-2) that are generated through alternative splicing of mRNA (2). The expression of both OS-9 isoforms is enhanced upon activation of the IRE1/XBP1 pathway in cells exposed to acute ER stress. It is postulated that OS-9 serves as a retention factor for glycosylated and nonglycosylated, misfolded proteins, preventing their progression through the secretory pathway (3,4). Furthermore, OS-9 promotes the removal of misfolded proteins from the ER lumen and their subsequent proteasome-dependent degradation via its association with the Hrd1-SEL1L ubiquitin ligase complex (5).
Su, Y.A. et al. (1996) Mol Carcinog 15, 270-5.
Kimura, Y. et al. (1998) J Biochem 123, 876-82.
Bernasconi, R. et al. (2008) J Biol Chem 283, 16446-54.
Alcock, F. and Swanton, E. (2009) J Mol Biol 385, 1032-42.
Christianson, J.C. et al. (2008) Nat Cell Biol 10, 272-82.
Application References
Have you published research involving the use of our products? If so we'd love to hear about it. Please let us know!
---
This product is intended for research purposes only. The product is not intended to be used for therapeutic or diagnostic purposes in humans or animals.
Cell Signaling Technology is a trademark of Cell Signaling Technology, Inc.