Product Pathways - TGF-beta/Smad Signaling
Smad5 (D4G2) Rabbit mAb #12534

PhosphoSitePlus® protein, site, and accession data: SMAD5
| Item# | Description | List Price | Web Price | Qty | |
| --- | --- | --- | --- | --- | --- |
*On-line ordering is for Canadian customers only. Web pricing is applicable only to orders placed online at www.neb.ca
X
Companion Products
| Item# | Description | List Price | Web Price | Qty | |
| --- | --- | --- | --- | --- | --- |
Application
Dilution
Species-Reactivity
Sensitivity
MW (kDa)
Isotype
W

Human

,

Mouse

,

Rat

,

Monkey

Endogenous
60
Rabbit IgG
IP
ChIP
Species cross-reactivity is determined by western blot.
Applications Key: W=Western Blotting, IP=Immunoprecipitation, ChIP=Chromatin IP
Directions For Use
For optimal ChIP results, use 5 μl of antibody and 10 μg of chromatin (approximately 4 x 106 cells) per IP. This antibody has been validated using SimpleChIP® Enzymatic Chromatin IP Kits.
Protocols
Specificity / Sensitivity
Smad5 (D4G2) Rabbit mAb recognizes endogenous levels of total Smad5 protein.
Source / Purification
Monoclonal antibody is produced by immunizing animals with a synthetic peptide corresponding to residues surrounding Pro249 of human Smad5 protein.
Western Blotting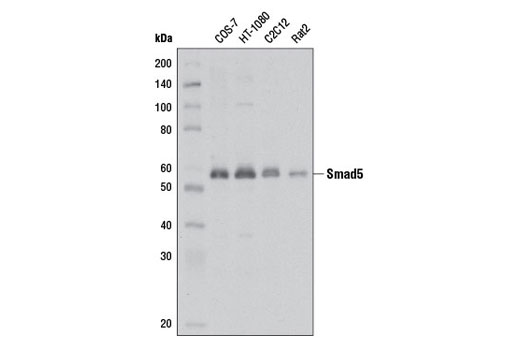 Western blot analysis of extracts from various cell lines using Smad5 (D4G2) Rabbit mAb.
IP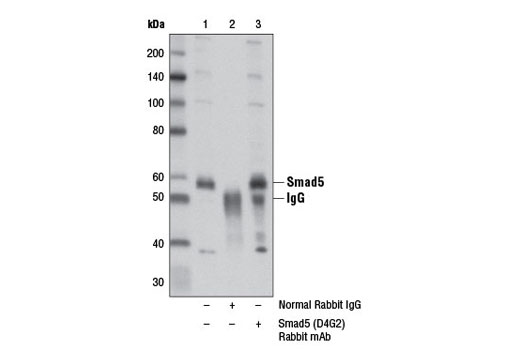 Immunoprecipitation of Smad5 from HT-1080 cell extracts using Normal Rabbit IgG #2729 (lane 2) or Smad5 (D4G2) Rabbit mAb (lane 3). Lane 1 is 10% input. Western blot analysis was performed using Smad5 (D4G2) Rabbit mAb.
Chromatin IP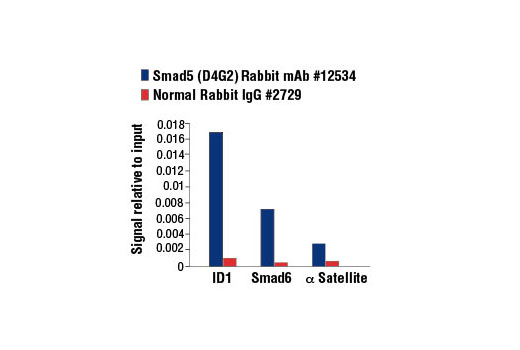 Chromatin immunoprecipitations were performed with cross-linked chromatin from MCF7 cells treated with Human BMP2 #4697 (50 ng/ml, 1 hr) and either Smad5 (D4G2) Rabbit mAb or Normal Rabbit IgG #2729 using SimpleChIP® Enzymatic Chromatin IP Kit (Magnetic Beads) #9003. The enriched DNA was quantified by real-time PCR using SimpleChIP® Human ID1 Promoter Primers #5139, human Smad6 promoter primers, and SimpleChIP® Human α Satellite Repeat Primers #4486. The amount of immunoprecipitated DNA in each sample is represented as signal relative to the total amount of input chromatin, which is equivalent to one.
Background
Bone morphogenetic proteins (BMPs) constitute a large family of signaling molecules that regulate a wide range of critical processes including morphogenesis, cell-fate determination, proliferation, differentiation, and apoptosis (1,2). BMP receptors are members of the TGF-β family of Ser/Thr kinase receptors. Ligand binding induces multimerization, autophosphorylation, and activation of these receptors (3-5). They subsequently phosphorylate Smad1 at Ser463 and Ser465 in the carboxy-terminal motif SSXS, as well as Smad5 and Smad9 (Smad8) at their corresponding sites. These phosphorylated Smads dimerize with the coactivating Smad4 and translocate to the nucleus, where they stimulate transcription of target genes (5).
MAP kinases and CDKs 8 and 9 phosphorylate residues in the linker region of Smad1, including Ser206. The phosphorylation of Ser206 recruits Smurf1 to the linker region and leads to the degradation of Smad1 (6). Phosphorylation of this site also promotes Smad1 transcriptional action by recruiting YAP to the linker region (7).
Hogan, B.L. (1996) Genes Dev 10, 1580-94.
Hoodless, P.A. et al. (1996) Cell 85, 489-500.
Klemm, J.D. et al. (1998) Annu Rev Immunol 16, 569-92.
Kretzschmar, M. et al. (1997) Genes Dev 11, 984-95.
Whitman, M. (1998) Genes Dev 12, 2445-62.
Sapkota, G. et al. (2007) Mol Cell 25, 441-54.
Alarcón, C. et al. (2009) Cell 139, 757-69.
Application References
Have you published research involving the use of our products? If so we'd love to hear about it. Please let us know!
---
This product is intended for research purposes only. The product is not intended to be used for therapeutic or diagnostic purposes in humans or animals.
Cell Signaling Technology is a trademark of Cell Signaling Technology, Inc.