Product Pathways - Tyrosine Kinase / Adaptors
Phospho-FGF Receptor 1 (Tyr766) (1E5) Rabbit mAb #2544

PhosphoSitePlus® protein, site, and accession data: FGFR1
| Item# | Description | List Price | Web Price | Qty | |
| --- | --- | --- | --- | --- | --- |
*On-line ordering is for Canadian customers only. Web pricing is applicable only to orders placed online at www.neb.ca
X
Companion Products
| Item# | Description | List Price | Web Price | Qty | |
| --- | --- | --- | --- | --- | --- |
| Application | Dilution | Species-Reactivity | Sensitivity | MW (kDa) | Isotype |
| --- | --- | --- | --- | --- | --- |
| W | | Human | Transfected Only | 120, 145 | Rabbit IgG |
Species cross-reactivity is determined by western blot.
Applications Key: W=Western Blotting
Specificity / Sensitivity
Phospho-FGF Receptor 1 (Tyr766) (1E5) Rabbit mAb detects transfected levels of FGFR-1 only when phosphorylated at tyrosine 766. The antibody may cross-react with other FGFR family members and some activated protein tyrosine kinases including EGFR and insulin/IGF-I receptors.
Source / Purification
Monoclonal antibody is produced by immunizing animals with a synthetic phosphopeptide corresponding to residues surrounding Tyr766 of human FGF receptor-1.
Western Blotting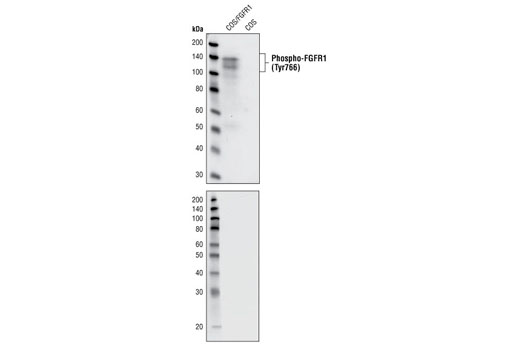 Western blot analysis of cell extracts from COS cells overexpressing human FGFR1 and control COS cells, using Phospho-FGF Receptor-1 (Tyr766) (1E5) Rabbit mAb. Before antibody probing, the transferred membrane was untreated (upper) or CIP treated (lower) to confirm the phospho-specificity of the antibody.
Background
Fibroblast growth factors (FGFs) produce mitogenic and angiogenic effects in target cells by signaling through cell surface receptor tyrosine kinases. There are four members of the FGF receptor family: FGFR1 (flg), FGFR2 (bek, KGFR), FGFR3, and FGFR4. Each receptor contains an extracellular ligand binding domain, a transmembrane domain, and a cytoplasmic kinase domain (1). Following ligand binding and dimerization, the receptors are phosphorylated at specific tyrosine residues (2). Seven tyrosine residues in the cytoplasmic tail of FGFR1 can be phosphorylated: Tyr463, 583, 585, 653, 654, 730, and 766. Tyr653 and Tyr654 are important for catalytic activity of activated FGFR and are essential for signaling (3). The other phosphorylated tyrosine residues may provide docking sites for downstream signaling components such as Crk and PLCγ (4,5).
Autophosphorylation of Tyr766 of FGFR1 is critical for phospholipase C (PLC) binding and activation and also plays a role in the negative regulation of FGFR1 activity in vivo (6).
Powers, C.J. et al. (2000) Endocr Relat Cancer 7, 165-97.
Reilly, J.F. et al. (2000) J Biol Chem 275, 7771-8.
Mohammadi, M. et al. (1996) Mol Cell Biol 16, 977-89.
Mohammadi, M. et al. (1991) Mol Cell Biol 11, 5068-78.
Larsson, H. et al. (1999) J Biol Chem 274, 25726-34.
Partanen, J. et al. (1998) Genes Dev 12, 2332-44.
Application References
Have you published research involving the use of our products? If so we'd love to hear about it. Please let us know!
---
This product is intended for research purposes only. The product is not intended to be used for therapeutic or diagnostic purposes in humans or animals.
Cell Signaling Technology is a trademark of Cell Signaling Technology, Inc.
U.S. Patent No. 7,429,487, foreign equivalents, and child patents deriving therefrom.