Product Pathways - NF-kB Signaling
MyD88 Antibody #3699

PhosphoSitePlus® protein, site, and accession data: MYD88
| Item# | Description | List Price | Web Price | Qty | |
| --- | --- | --- | --- | --- | --- |
*On-line ordering is for Canadian customers only. Web pricing is applicable only to orders placed online at www.neb.ca
X
Companion Products
| Item# | Description | List Price | Web Price | Qty | |
| --- | --- | --- | --- | --- | --- |
Application
Dilution
Species-Reactivity
Sensitivity
MW (kDa)
Source
W

Human

,

Monkey

Endogenous
33
Rabbit
Species cross-reactivity is determined by western blot.
Applications Key: W=Western Blotting
Specificity / Sensitivity
MyD88 Antibody detects endogenous levels of total MyD88 protein.
Source / Purification
Polyclonal antibodies are produced by immunizing animals with a synthetic peptide corresponding to residues surrounding lysine 119 of human MyD88. Antibodies were purified by protein A and peptide affinity chromatography.
Western Blotting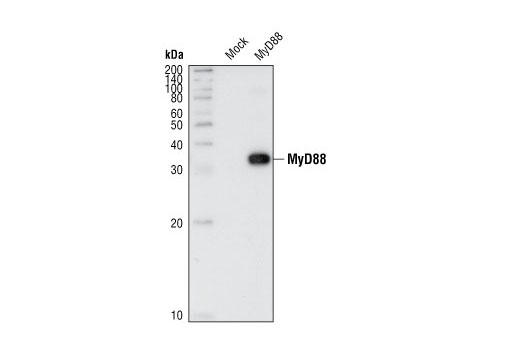 Western blot analysis of extracts from HeLa cells, either mock transfected or transfected with MyD88, using MyD88 Antibody.
Background
Members of the Toll-like receptor (TLR) family, named for the closely related Toll receptor in Drosophila, play a pivotal role in innate immune responses (1-4). TLRs recognize conserved motifs found in various pathogens and mediate defense responses (5-7). Triggering of the TLR pathway leads to the activation of NF-κB and subsequent regulation of immune and inflammatory genes (4). The TLRs and members of the IL-1 receptor family share a conserved stretch of approximately 200 amino acids known as the Toll/Interleukin-1 receptor (TIR) domain (1). Upon activation, TLRs associate with a number of cytoplasmic adaptor proteins containing TIR domains, including myeloid differentiation factor 88 (MyD88), MyD88-adaptor-like/TIR-associated protein (MAL/TIRAP), Toll-receptor-associated activator of interferon (TRIF), and Toll-receptor-associated molecule (TRAM) (8-10). This association leads to the recruitment and activation of IRAK1 and IRAK4, which form a complex with TRAF6 to activate TAK1 and IKK (8,11-14). Activation of IKK leads to the degradation of IκB, which normally maintains NF-κB in an inactive state by sequestering it in the cytoplasm.
MyD88 was originally isolated as a myeloid differentiation primary response gene that is rapidly induced upon IL-6 stimulated differentiation of M1 myeloleukemic cells into macrophages (15-17). It contains an amino-terminal death domain separated from a carboxyl-terminal TIR domain and functions as an adaptor in TLR/IL-1 receptor signaling (18). The death domain of MyD88 mediates interactions with the IRAK complex triggering a signaling cascade that includes the activation of NF-κB (19,20).
Akira, S. (2003) J Biol Chem 278, 38105-8.
Beutler, B. (2004) Nature 430, 257-63.
Dunne, A. and O'Neill, L.A. (2003) Sci STKE 2003, re3.
Medzhitov, R. et al. (1997) Nature 388, 394-7.
Schwandner, R. et al. (1999) J Biol Chem 274, 17406-9.
Takeuchi, O. et al. (1999) Immunity 11, 443-51.
Alexopoulou, L. et al. (2001) Nature 413, 732-8.
Zhang, F.X. et al. (1999) J Biol Chem 274, 7611-4.
Horng, T. et al. (2001) Nat Immunol 2, 835-41.
Oshiumi, H. et al. (2003) Nat Immunol 4, 161-7.
Muzio, M. et al. (1997) Science 278, 1612-5.
Wesche, H. et al. (1997) Immunity 7, 837-47.
Suzuki, N. et al. (2002) Nature 416, 750-6.
Irie, T. et al. (2000) FEBS Lett 467, 160-4.
Harroch, S. et al. (1995) Nucleic Acids Res. 23, 3539-46.
Hardiman, G. et al. (1996) Oncogene 13, 2467-75.
Bonnert, T.P. et al. (1997) FEBS Lett. 402, 81-4.
Medzhitov, R. et al. (1998) Mol. Cell 2, 253-8.
Wesche, H. et al. (1997) Immunity 7, 837-47.
Muzio, M. et al. (1997) Science 278, 1612-5.
Application References
Have you published research involving the use of our products? If so we'd love to hear about it. Please let us know!
---
This product is intended for research purposes only. The product is not intended to be used for therapeutic or diagnostic purposes in humans or animals.
Cell Signaling Technology is a trademark of Cell Signaling Technology, Inc.