Product Pathways - Autophagy Signaling
LC3A/B Antibody #4108
Have you tried your application using our XP® monoclonal antibodies? Try products: 12741

PhosphoSitePlus® protein, site, and accession data: LC3A, LC3B
| Item# | Description | List Price | Web Price | Qty | |
| --- | --- | --- | --- | --- | --- |
*On-line ordering is for Canadian customers only. Web pricing is applicable only to orders placed online at www.neb.ca
X
Companion Products
| Item# | Description | List Price | Web Price | Qty | |
| --- | --- | --- | --- | --- | --- |
Application
Dilution
Species-Reactivity
Sensitivity
MW (kDa)
Source
W

Human

,

Mouse

,

Rat

Endogenous
14, 16
Rabbit
IF-IC
F
Species cross-reactivity is determined by western blot.
Applications Key: W=Western Blotting, IF-IC=Immunofluorescence (Immunocytochemistry), F=Flow Cytometry
Homology
Species predicted to react based on 100% sequence homology: Monkey, Chicken, Xenopus, Zebrafish, Dog.
Specificity / Sensitivity
LC3A/B Antibody detects endogenous levels of total LC3A and LC3B proteins. Cross-reactivity may exist with LC3C. Stronger reactivity is observed with the type II form of LC3A/B.
Source / Purification
Polyclonal antibodies are produced by immunizing animals with a synthetic peptide corresponding to residues surrounding Gly40 of LC3B. Antibodies are purified by protein A and peptide affinity chromatography.
Western Blotting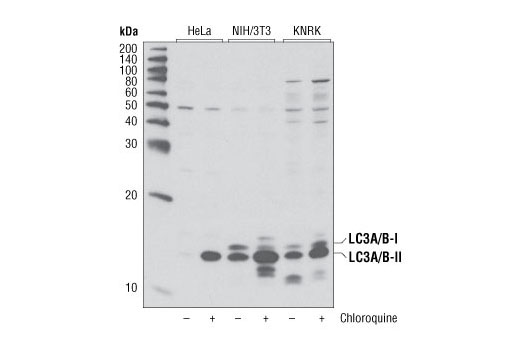 Western blot analysis of extracts from various cell lines, untreated or treated with chloroquine (50 μM, overnight) using LC3A/B Antibody.
IF-IC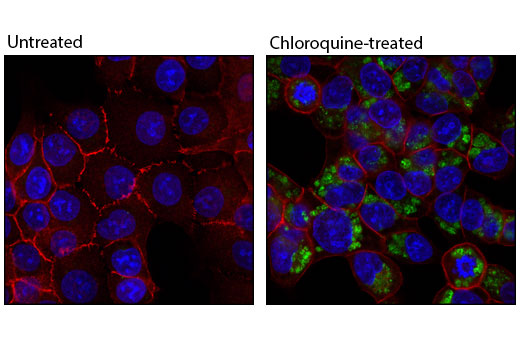 Confocal immunofluorescent analysis of HCT-116 cells, untreated (left) or choroquine-treated (50 uM, overnight; right) using LC3A/B Antibody (green) and β-Catenin (L54E2) Mouse mAb (Alexa Fluor® 555 Conjugate) #5612 (red). Blue pseudocolor = DRAQ5® #4084 (fluorescent DNA dye).
Flow Cytometry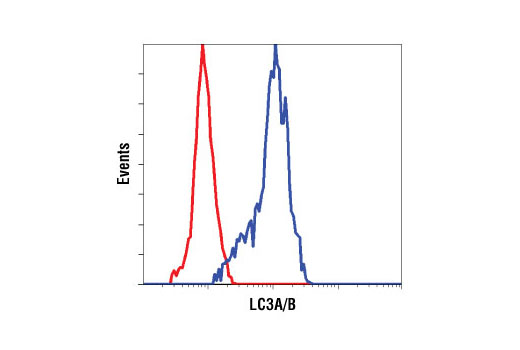 Flow cytometric analysis of Hela cells using LC3A/B Antibody (blue) compared to a nonspecific negative control antibody (red).
Background
Autophagy is a catabolic process for the autophagosomic-lysosomal degradation of bulk cytoplasmic contents (1,2). Autophagy is generally activated by conditions of nutrient deprivation, but it has also been associated with a number of physiological processes including development, differentiation, neurodegenerative diseases, infection, and cancer (3). Autophagy marker Light Chain 3 (LC3) was originally identified as a subunit of microtubule-associated proteins 1A and 1B (termed MAP1LC3) (4) and subsequently found to contain similarity to the yeast protein Apg8/Aut7/Cvt5 critical for autophagy (5). Three human LC3 isoforms (LC3A, LC3B, and LC3C) undergo post-translational modifications during autophagy (6-9). Cleavage of LC3 at the carboxy terminus immediately following synthesis yields the cytosolic LC3-I form. During autophagy, LC3-I is converted to LC3-II through lipidation by a ubiquitin-like system involving Atg7 and Atg3 that allows for LC3 to become associated with autophagic vesicles (6-10). The presence of LC3 in autophagosomes and the conversion of LC3 to the lower migrating form, LC3-II, have been used as indicators of autophagy (11).
Reggiori, F. and Klionsky, D.J. (2002) Eukaryot. Cell 1, 11-21.
Codogno, P. and Meijer, A.J. (2005) Cell Death Differ. 12 Suppl 2, 1509-18.
Levine, B. and Yuan, J. (2005) J. Clin. Invest. 115, 2679-88.
Mann, S.S. and Hammarback, J.A. (1994) J. Biol. Chem. 269, 11492-97.
Lang, T. et al. (1998) EMBO J. 17, 3597-607.
Kabeya, Y. et al. (2000) EMBO J. 19, 5720-28.
He, H. et al. (2003) J. Biol. Chem. 278, 29278-87.
Tanida, I. et al. (2004) J. Biol. Chem. 279, 47704-10.
Wu, J. et al. (2006) Biochem. Biophys. Res. Commun. 339, 437-42.
Ichimura, Y. et al. (2000) Nature 408, 488-92.
Kabeya, Y. et al. (2004) J. Cell Sci. 117, 2805-12.
Application References
Moreau, K. et al. (2011) Cell 146, 303-17. Applications: IF-IC (In Cells).
Have you published research involving the use of our products? If so we'd love to hear about it. Please let us know!
---
This product is intended for research purposes only. The product is not intended to be used for therapeutic or diagnostic purposes in humans or animals.
DRAQ5 is a registered trademark of Biostatus Limited.
Cell Signaling Technology is a trademark of Cell Signaling Technology, Inc.