Product Pathways - Neuroscience
CaMKII (pan) (D11A10) Rabbit mAb #4436

PhosphoSitePlus® protein, site, and accession data: CAMK2A, CAMK2B, CAMK2D, CAMK2G
| Item# | Description | List Price | Web Price | Qty | |
| --- | --- | --- | --- | --- | --- |
*On-line ordering is for Canadian customers only. Web pricing is applicable only to orders placed online at www.neb.ca
X
Companion Products
| Item# | Description | List Price | Web Price | Qty | |
| --- | --- | --- | --- | --- | --- |
Application
Dilution
Species-Reactivity
Sensitivity
MW (kDa)
Isotype
W

Human

,

Mouse

,

Rat

Endogenous
60, 50
Rabbit IgG
Species cross-reactivity is determined by western blot.
Applications Key: W=Western Blotting
Specificity / Sensitivity
CaMKII (pan) (D11A10) Rabbit mAb detects endogenous levels of total CaMKII protein. The peptide sequence used as the antigen is 100% conserved between CaMKII-alpha, gamma and delta, and 88% conserved in CaMKII-beta.
Source / Purification
Monoclonal antibody is produced by immunizing animals with a synthetic peptide surrounding Val184 of human CaMKII-alpha.
Western Blotting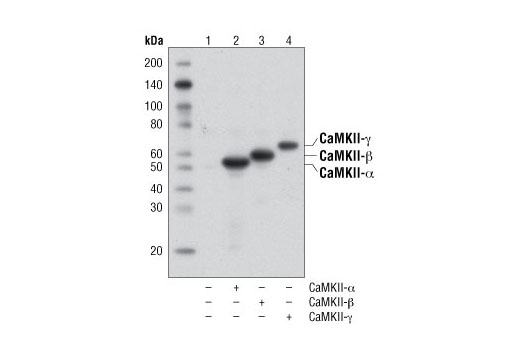 Western blot analysis of extracts from 293T cells, mock transfected (lane 1) or expressing CaMKII-α (lane2), CaMKII-β (lane 3) or CaMKII-γ (lane 4) using CaMKII (pan) (D11A10) Rabbit mAb.
Background
CaMKII is an important member of the calcium/calmodulin-activated protein kinase family, functioning in neural synaptic stimulation and T cell receptor signaling (1,2). CaMKII has catalytic and regulatory domains. Ca2+/calmodulin binding to the CaMKII regulatory domain relieves autoinhibition and activates the kinase (3). The activated CaMKII further autophosphorylates at Thr286 to render the kinase constitutively active (3). The threonine phosphorylation state of CaMKII can be regulated through PP1/PKA. PP1 (protein phosphatase 1) dephosphorylates phospho-CaMKII at Thr286. PKA (protein kinase A) prevents phospho-CaMKII (Thr286) dephosphorylation through an inhibitory effect on PP1 (4).
Hughes, K. et al. (2001) J Biol Chem 276, 36008-13.
Barria, A. et al. (1997) Science 276, 2042-5.
Barkai, U. et al. (2000) Mol Endocrinol 14, 554-63.
Makhinson, M. et al. (1999) J Neurosci 19, 2500-10.
Application References
Have you published research involving the use of our products? If so we'd love to hear about it. Please let us know!
---
This product is intended for research purposes only. The product is not intended to be used for therapeutic or diagnostic purposes in humans or animals.
Cell Signaling Technology is a trademark of Cell Signaling Technology, Inc.