Product Pathways - Chromatin Regulation / Epigenetics
LSD2 (E1R6O) Rabbit mAb #54576

PhosphoSitePlus® protein, site, and accession data: AOF1
| Item# | Description | List Price | Web Price | Qty | |
| --- | --- | --- | --- | --- | --- |
*On-line ordering is for Canadian customers only. Web pricing is applicable only to orders placed online at www.neb.ca
X
Companion Products
| Item# | Description | List Price | Web Price | Qty | |
| --- | --- | --- | --- | --- | --- |
Application
Dilution
Species-Reactivity
Sensitivity
MW (kDa)
Isotype
W

Human

,

Mouse

,

Rat

,

Monkey

Endogenous
92
Rabbit IgG
Species cross-reactivity is determined by western blot.
Applications Key: W=Western Blotting
Specificity / Sensitivity
LSD2 (E1R6O) Rabbit mAb recognizes endogenous levels of total LSD2 protein. This antibody does not cross-react with LSD1 protein.
Source / Purification
Monoclonal antibody is produced by immunizing animals with a synthetic peptide corresponding to residues surrounding Leu467 of human LSD2 protein.
Western Blotting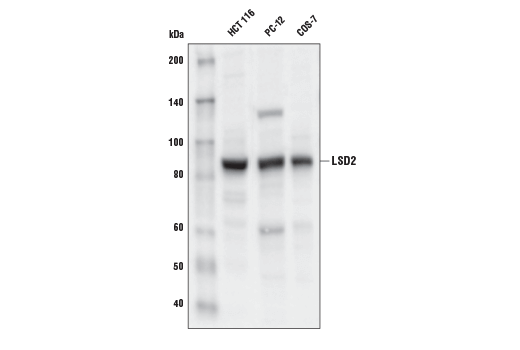 Western blot analysis of extracts from HCT 116, PC-12, and COS-7 cell lines using LSD2 (E1R6O) Rabbit mAb.
Background
Lysine-specific demethylase 2 (LSD2; also known as AOF1) is a nuclear amine oxidase homolog that acts as a histone demethylase and transcription cofactor protein (1,2). LSD2 functions as a co-repressor protein by demethylating mono-methyl and di-methyl histone H3 Lys4, two marks associated with actively transcribed genes (1,2). LSD2-mediated demethylation of histone H3 Lys4 is required for establishing proper DNA methylation imprints during oogenesis (3). In addition, LSD2 appears to be overexpressed in malignant breast cancers, where it contributes to DNA methylation and repression of multiple tumor suppressor genes (4,5). Furthermore, LSD2 also contains E3 ubiquitin ligase activity that targets O-GlcNac transferase (OGT) for proteosomal degradation (6). A549 lung cancer cell growth is dependent on this E3 ubiquitin ligase activity, suggesting that this function of LSD2 is also important for proper gene regulation (6).
Yang, Z. et al. (2010) Cell Res 20, 276-87.
Fang, R. et al. (2010) Mol Cell 39, 222-33.
Ciccone, D.N. et al. (2009) Nature 461, 415-8.
Huang, Y. et al. (2018) Aging (Albany NY) 10, 11-12.
Chen, L. et al. (2017) Oncotarget 8, 81737-53.
Yang, Y. et al. (2015) Mol Cell 58, 47-59.
Application References
Have you published research involving the use of our products? If so we'd love to hear about it. Please let us know!
---
This product is intended for research purposes only. The product is not intended to be used for therapeutic or diagnostic purposes in humans or animals.
Tween is a registered trademark of ICI Americas, Inc.
XP is a registered trademark of Cell Signaling Technology, Inc.
Cell Signaling Technology is a trademark of Cell Signaling Technology, Inc.