Product Pathways - Nuclear Receptor Signaling
RARα (E6Z6K) Rabbit mAb #62294

PhosphoSitePlus® protein, site, and accession data: RARA
| Item# | Description | List Price | Web Price | Qty | |
| --- | --- | --- | --- | --- | --- |
*On-line ordering is for Canadian customers only. Web pricing is applicable only to orders placed online at www.neb.ca
X
Companion Products
| Item# | Description | List Price | Web Price | Qty | |
| --- | --- | --- | --- | --- | --- |
Application
Dilution
Species-Reactivity
Sensitivity
MW (kDa)
Isotype
W

Human

,

Mouse

,

Monkey

Endogenous
60
Rabbit IgG
IP
ChIP
Species cross-reactivity is determined by western blot.
Applications Key: W=Western Blotting, IP=Immunoprecipitation, ChIP=Chromatin IP
Protocols
Specificity / Sensitivity
RARα (E6Z6K) Rabbit mAb recognizes endogenous levels of total RARα protein. This antibody weakly detects RARγ when it is overexpressed.
Source / Purification
Monoclonal antibody is produced by immunizing animals with a synthetic peptide corresponding to residues surrounding Leu220 of human RARα protein.
Western Blotting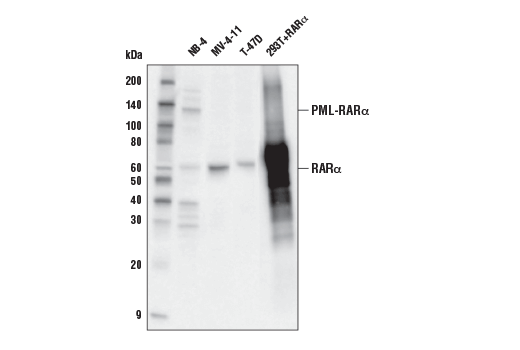 Western blot analysis of extracts from various cell lines using RARα (E6Z6K) Rabbit mAb. The NB-4 cell line contains the PML-RARα fusion protein.
IP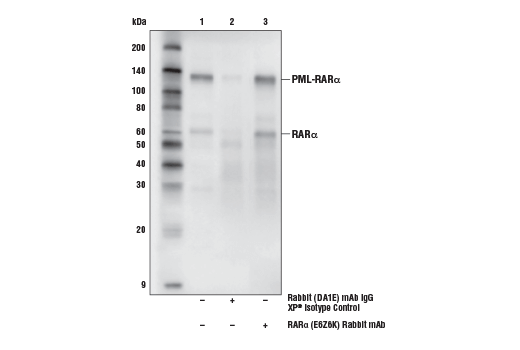 Immunoprecipitation of RARα and PML-RARα from NB-4 cell extracts. Lane 1 is 10% input, lane 2 is Rabbit (DA1E) mAb IgG XP® Isotype Control #3900, and lane 3 is RARα (E6Z6K) Rabbit mAb. Western blot analysis was performed with RARα (E6Z6K) Rabbit mAb. The NB-4 cell line contains the PML-RARα fusion. Mouse Anti-rabbit IgG (Conformation Specific) (L27A9) mAb (HRP Conjugate) #5127 was used as a secondary antibody.
Chromatin IP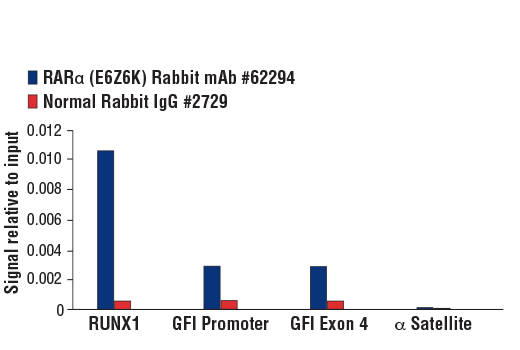 Chromatin immunoprecipitations were performed with cross-linked chromatin from NB-4 cells and either RARα (E6Z6K) Rabbit mAb #62294 or Normal Rabbit IgG #2729 using SimpleChIP® Plus Enzymatic Chromatin IP Kit (Magnetic Beads) #9005. The enriched DNA was quantified by real-time PCR using SimpleChIP® Human RUNX1 Exon 2 Primers #67254, human GFI promoter primers, human GFI exon 4 primers, and SimpleChIP® Human α Satellite Repeat Primers #4486. The amount of immunoprecipitated DNA in each sample is represented as signal relative to the total amount of input chromatin, which is equivalent to one.
Background
Retinoids (vitamin A and its active retinoic acid derivatives) are non-steroid hormones that regulate cell proliferation, differentiation and apoptosis. Retinoic acid receptors (RARalpha, -beta and -gamma) and retinoid X receptors (RXRalpha, -beta and -gamma) are nuclear receptors that function as RAR-RXR heterodimers or RXR homodimers (1-2). In response to retinoid binding, these dimers control gene expression by binding to specific retinoic acid response elements, by recruiting cofactors and the transcriptional machinery, and by indirectly regulating chromatin structure. Finally, ligand binding and phosphorylation of RARalpha by JNK at Thr181, Ser445 and Ser461 controls the stability of RAR-RXR through the ubiquitin-proteasome pathway (3-4). At least four distinct genetic lesions affect RARalpha and result in acute promyelocytic leukemia (APL). The t(15;17) translocation that results in the PML-RARalpha fusion protein is responsible for more than 99% of APL cases, and the fusion protein inhibits PML-dependent apoptotic pathways in a dominant negative fashion. In addition PML-RARalpha inhibits transcription of retinoic acid target genes by recruiting co-repressors, attenuating myeloid differentiation (5-6).
Mangelsdorf, D. J. et al. (1995) Cell 83, 835-839.
Mangelsdorf, D.J. and Evans, R.M. (1995) Cell 83, 841-850.
Bastien, J. and Rochette-Egly, C. (2004) Gene 328, 1-16.
Srinivas, H. et al. (2005) Mol. Cell. Biol. 25, 1054-1069.
de The, H. et al. (1990) Nature 347, 558-561.
Slack, J.L. and Rusiniak, M.E. (2000) Ann. Hematol. 79, 227-238.
Application References
Have you published research involving the use of our products? If so we'd love to hear about it. Please let us know!
---
This product is intended for research purposes only. The product is not intended to be used for therapeutic or diagnostic purposes in humans or animals.
Tween is a registered trademark of ICI Americas, Inc.
XP is a registered trademark of Cell Signaling Technology, Inc.
SimpleChIP is a registered trademark of Cell Signaling Technology, Inc.
Cell Signaling Technology is a trademark of Cell Signaling Technology, Inc.