Product Pathways - Chromatin Regulation / Epigenetics
6-Tube Magnetic Separation Rack #7017
| Item# | Description | List Price | Web Price | Qty | |
| --- | --- | --- | --- | --- | --- |
*On-line ordering is for Canadian customers only. Web pricing is applicable only to orders placed online at www.neb.ca
X
Companion Products
| Item# | Description | List Price | Web Price | Qty | |
| --- | --- | --- | --- | --- | --- |
Protocols
Description
The Magnetic Separation Rack is designed for quick and easy small-scale isolation of immunocomplexes from chromatin immunoprecipitations (ChIP assays) using SimpleChIP® Enzymatic Chromatin IP Kit (Magnetic Beads) #9003 or ChIP-Grade Protein G Magnetic Beads #9006. The rack holds up to six 1.5-2.0 ml tubes and contains three neodymium rare earth permanent magnets. Rare earth magnets are extremely powerful and should be kept away from mechanical/electrical instruments which may be damaged by high magnetic fields.
Directions For Use
Place tubes containing magnetic beads in the Magnetic Separation Rack, wait 1 to 2 minutes for the solution to clear, and then carefully remove supernatant. Remove the tubes from the Magnetic Separation Rack, add new solution and resuspend the beads by gently vortexing or rocking the tube.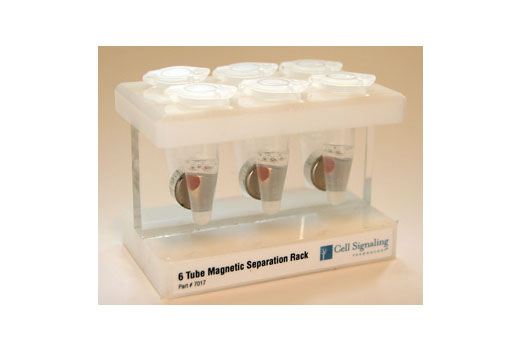 Application References
Have you published research involving the use of our products? If so we'd love to hear about it. Please let us know!
---
This product is intended for research purposes only. The product is not intended to be used for therapeutic or diagnostic purposes in humans or animals.
Cell Signaling Technology is a trademark of Cell Signaling Technology, Inc.